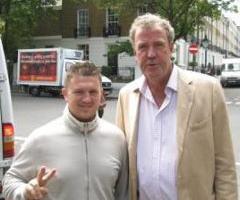 Gobby Jeremy Clarkson stormed into another race row last night after making fun of drowned Chinese cockle pickers. And his latest outburst came after the Daily Star Sunday discovered he had posed for a snap with the leader of the racist English Defence League.
The 51-year-old was slammed after joking about dead Chinese immigrants in his regular newspaper column. He tastelessly compared synchronised swimmers to the 21 cockle pickers who were killed in rising tides in Morecambe Bay, Lancashire, in 2004. The Top Gear presenter was last night branded "out of touch" by anti-racism groups.
The latest outrage came as a picture of Clarkson and far-right English Defence League head Stephen Lennon emerged. Lennon, also known as Tommy Robinson, claims he talked about Islam with Clarkson.
The 28-year-old convicted thug, who also founded the anti-Islamic movement, said: "He knew who I was. We talked about Islam. I don't want to say anything else because he will just get stitched up. But I'm a big fan of him."
The picture is thought to have been taken in September outside a pub in Shepherd's Bush, west London, where EDL members were holding a meeting.
But last night Jeremy Clarkson said he did not have a clue who Lennon was. He told the Daily Star Sunday: "I have no recollection of talking to this man and have no idea who Stephen Lennon is."
Daily Star Sunday, 8 January 2012
As the Star points out, Lennon does have a record of having his picture taken with public figures (see here and here) in order to falsely claim their support for the EDL. However, it's not difficult to believe that he and Clarkson found they have a lot in common.