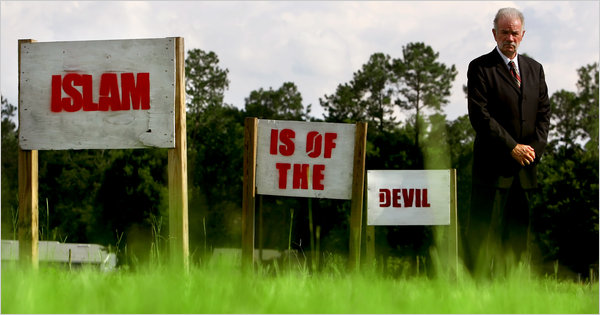 Home secretary Theresa May is under intense pressure to ban controversial anti-Muslim preacher Terry Jones from Britain after far-right activists said he had agreed to address them at a demonstration about "the evils of Islam".
The English Defence League (EDL) said it was "proud to announce" that the US pastor, who caused outrage with plans to burn the Qur'an on this year's anniversary of the 9/11 terrorist attacks, would be attending the event in Luton in early February. Jones confirmed that he would be arriving in the UK. The pastor's website said he intended to visit the EDL's "biggest demonstration to date" in February. The website stated: "During the protest, Dr Terry Jones will speak against the evils and destructiveness of Islam in support of the continued fight against the Islamification of England and Europe."
President Barack Obama warned in September that Jones's planned Qur'an burnings would be a "recruitment bonanza" for al-Qaida and the US state department said it would put the country's citizens at risk across the world.
The EDL announced Jones's planned visit on its Facebook site yesterday, saying he would attend "our biggest demo to date" and describing it as "the big one". There are fears that copies of the Qur'an could be burned by extremists.
The last time the EDL marched in Luton, 250 of their supporters went on the rampage through an Asian area of the town. Shop windows were smashed, cars overturned and a number of people were attacked. Thirty-five people were arrested as a result of the violence. Eleven people were arrested yesterday as 500 EDL supporters marched in Peterborough.
News of Jones's planned visit comes as the head of the police intelligence unit on domestic extremism reveals that the EDL and related splinter groups have become his biggest concern.
Adrian Tudway, the national co-ordinator for domestic extremism, told the Observer: "We look at the extreme right and left, but currently our biggest single area of business are the various groups which call themselves defence leagues. These defence leagues can be found across England."
The unit is monitoring a "number of individuals" connected to extreme rightwing groups, details of which are disseminated to local police forces.
See also "Koran-protest pastor Terry Jones may be banned from UK", BBC News, 12 December 2010
Further details at Bartholomew's Notes on Religion
Update:  See Jon Cruddas, "Ban the hateful Pastor Jones", Comment is Free, 12 December 2010