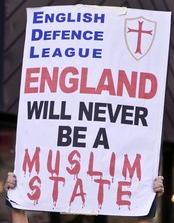 A far-right group has vowed to "close down" any town that ditches British traditions and shows favouritism to Muslims.
The English Defence League said it has written to every council in the country threatening a mass invasion if they ban the word "Christmas". It includes using the term "winter festival" in case Christmas upsets Muslims.
EDL leader Stephen Lennon said "working class people" in the UK were "at boiling point" over what he says is the "Islamisation of Britain". His declaration comes after yesterday's Daily Star poll found 98% of readers fear that Britain is becoming a Muslim state.
He said: "If the politicians aren't going to stick up for us, we will make them, because we will cause so much fuss and so much noise they are going to have to listen. We will not back down or be beaten into submission. We don't care if you call us racists. We are coming anyway."