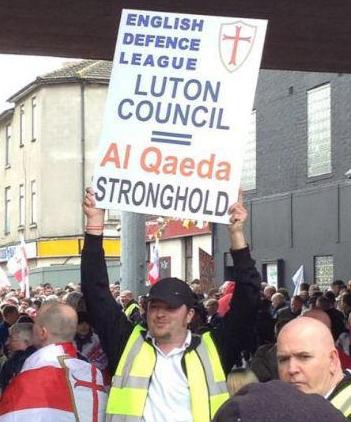 Protests by the English Defence League (EDL) and Unite Against Fascism (UAF) in Luton have ended without major incident amid a huge police presence.
About 1,500 EDL supporters and 1,000 UAF protesters were involved in the protests. There were seven arrests. Officers said the arrests were for weapons offences and assault.
Both groups took part in a one-mile (1.6km) march earlier. The EDL supporters marched from High Town Road to St Georges Square, while the UAF group marched between Bury Park Road and Market Hill. Speeches were given in both squares, which are about half a mile apart, from about 1345 GMT.
Before the protest began, 150 UAF demonstrators linked hands at the railway station to prevent EDL supporters entering the town. The EDL group chanted "Muslim bombers off our streets" and held banners aloft, some of which read "No more mosques".
Speaking at the UAF counter-rally, Labour MEP Richard Howitt said: "The message to the EDL is clear: This is not your home, you are not welcome here."
See also Luton & Dunstable Express, 5 May 2012
Update:  See also Malatesta's report at Libcom.org, 6 May 2012
And "Luton: antifascists outnumber EDL as it launches new party",UAF news report, 6 May 2012