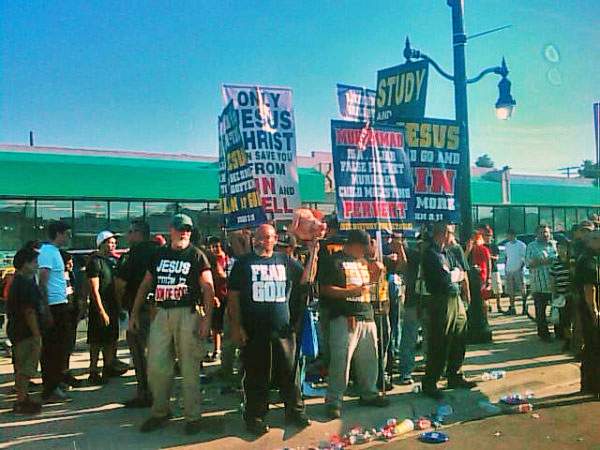 Right-wing Christian demonstrators harass Muslims at 2012 Arab International Festival in Dearborn
After growing religious tensions between some Christian missionaries and local Muslims, the annual Arab International Festival in Dearborn has been canceled for this year, organizers said Friday.
The announcement left many disappointed that a small number of aggressive extremists could ruin what had become a tradition in the eastern section of Dearborn, which has a significant number of Arab Americans.
The city and organizers were facing increased insurance and liability costs because of the tensions and lawsuits over the festival. Last month, the City of Dearborn had proposed moving the festival to a park instead of the traditional location on Warren Avenue in order to decrease conflict.
But Fay Baydoun, director of the American-Arab Chamber of Commerce, said Friday that it would have been impossible to organize a successful event in time at the new location. Baydoun said she hopes that next year's festival will "come back better and stronger."
The decision to cancel the festival comes after four years of tensions at the event between some Christian missionaries and local Muslims. Their encounters resulted in heated arguments, scuffles, some bottle-throwing and several lawsuits.
Local Arab Americans were upset over the cancellation of the festival because the original intent of it was to highlight Arab-American businesses, which helped turn east Dearborn from a ghost town into a thriving commercial destination, said local leaders.
"It's unfortunate there are groups who are seeking to create problems and incite people in a community where people are trying to build bridges of diversity," said Suehaila Amen, 34, of Dearborn. "This festival was about creating a family atmosphere during Father's Day weekend. And yet, there are those who do not wish to see people enjoy their life."