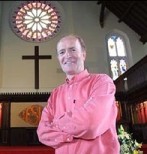 A rally of 32,000 church-goers at the Dockland's Excel Centre this weekend heard Christian Choice mayoral candidate Alan Craig explain one of his key priorities for London Mayor and the London Assembly.
The Newham councillor formally started his campaign outside City Hall on Friday lunchtime, before addressing the Festival of Life event, which went on through the night.
At the prayer rally he focused on his election campaign stance against the proposed Olympics Mega Mosque in West Ham.
Commenting about the scale of the event, Alan Craig said: "I was pleased to speak to so many Londoners and explain our reasoned and reasonable objections to this huge landmark mosque – planned to be Europe's largest."