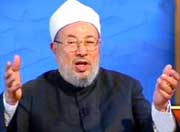 The Doha-based Muslim scholar Sheikh Yousuf al-Qaradawi has condemned the anti-Islam film released last Thursday by a far-right Dutch lawmaker.
He said the release was part of "a scheme to commit offences against Islam by extremists in the West. They continue to instigate hatred and widen the gulf between Islam and the West. Our problem is mainly with the extremist segment in the West which spares no chance to attack Islam and provoke Muslims into battles. It seems they seek gains of some type by raising fears about Islam. We were trying to forget the offending cartoons published by the Danish newspapers. We wanted to turn a new page with the West. But they reprinted them again. Muslims do not seek clashes or conflict," Qaradawi told the IslamOnline.net website.
Qaradawi, who is also the head of the International Union for Muslim Scholars (IUMS), told the website that Muslims should not tolerate frequent offences against Islam. "Muslims should demand that their governments implement a united and clear stance on such attacks. They should also boycott products of countries which accept such attacks by their citizens," he was quoted as saying.
However, Qaradawi appreciated the Dutch government for its stance on the movie saying that the response of the government was "positive". "I thank the government of Netherlands for condemning the movie," he said.
He also slammed the practices of Muslim extremists which, he said, distorted Islam's image. "Unfortunately, there are many Muslims who give the enemies of Islam the pretext to attack it. They give Islam a bad image because of their misinterpretation of the Holy Qur'an," he was quoted as saying.
About the content of the movie, he refuted its content as "baseless claims" saying that Qur'an in many of its verses calls for human brotherhood regardless of religion or ethnicity. "When wine was prohibited by Qur'an, the main reason for prohibition was that drinking can instigate hatred and cause troubles between people," he said.
On the so-called verses on Jihad which, the movie presented as an example of blood thirsty Islam, he said Islam does not tolerate killing. "Jihad in Islam was only to defend religion, home, honour and sanctities," he was quoted as saying.