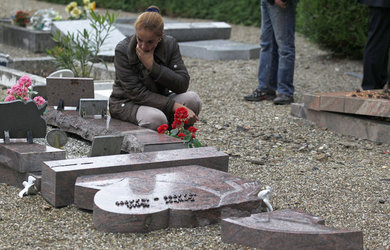 On Wednesday in Strasbourg three youth from the skinhead movement received sentences of between 12 and 18 months in prison for desecrating three Jewish and Muslim cemeteries, in a stormy trial during which the families of the victims exploded in anger.
Nicolas Lecureur Matthias Leyer and Jonathan Husser, all aged 22, were charged with racially motived criminal damage and incitement to racial hatred. They faced the prospect of three years in prison.
The first two, described in the survey as "ringleaders" of these desecrations, were sentenced to 18 months in prison. After spending two months in custody last year, they appeared at the hearing and emerged from it at liberty, the criminal court not having issued a warrant.
The third, who was prosecuted for two of the three defilements, was sentenced to a year. He is currently detained for theft and remains in prison.
The three young were part of a group that often met in a square in Strasbourg "to booze" and did not hide their xenophobic ideas.
"I was stupid, an idiot. It was to make me look different, to make me interesting. I was not thinking of the consequences," Matthias Leyer, the only one of the three defendants who admitted to the acts, stated at the hearing. "I was a skin from the age of 13 or 14," said the young man, who was tattooed with a Celtic cross on his leg and "88" (for "HH", "Heil Hitler") on his wrist.
The hearing took place in a tense atmosphere. Many civil parties were present and police were deployed in large numbers to prevent possible outbursts.
The damage to a total of 90 graves took place between January and September 2010 in three different places of the city of Strasbourg. Headstones overturned, swastikas, the inscription "Juden Raus" (Jews out): the desecrations had provoked an outcry, including in the political world.
More than a year after the first incident, and after a long investigation, 16 suspects were arrested in March 2011. Nine were eventually prosecuted, three of whom were acquitted. The other three members of this gang, aged between 16 and 17 at the time of the first desecration, subsequently appeared before a juvenile court.
See also "36 Muslim graves desecrated in Strasbourg", Islamophobia Watch, 24 September 2010
And "Strasbourg: 18 Muslim graves desecrated", Islamophobia Watch, 29 June 2010