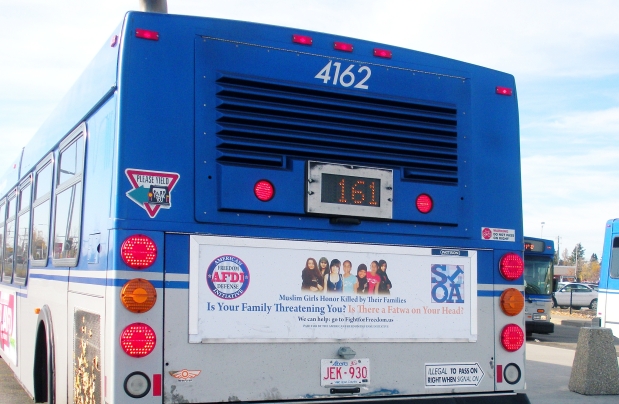 EDMONTON — The city will re-examine the way controversial Edmonton Transit ads are approved after pulling anti-Muslim bus placards offering to help Muslim girls threatened with honour killing.
"The minute I found out about these ads, I called over to Charlie Stolte, our general manager of Edmonton Transit Service, and showed my displeasure," Coun. Amarjeet Sohi said Tuesday. "They target one group, and in my mind they were very discriminatory and racist, and there's no place for that kind of bigotry on city property."
The posters on the back of five buses were taken down Tuesday, eight days after they went up.
They show a photo of young women above the caption "Muslim girls honor killed by their families. Is your family threatening you? Is there a fatwa on your head? We can help." There's a link to FightforFreedom.us, which warns about the "encroachment of Islam on western civilization."
The site is operated by SIOA (Stop Islamization of America), which put up the same material in Tampa, Fla. It has also run ads on buses in New York, San Francisco and Miami aimed at people facing family threats who wanted to leave Islam, and fought plans to build a mosque near New York's destroyed World Trade Center site.
In a post on her blog Atlas Shrugs, SIOA founder Pamela Geller says Edmonton Transit caved to "Muslim supremacist demands." The ads were installed in Edmonton because human rights activists she doesn't name wanted to partner with the organization, she writes. "The Muslim community protects the religious honour code, while smearing and libelling the truth tellers coming to the aid of these girls as 'racists.' "
The ads have been removed until they can be reviewed by Advertising Standards Canada, an industry organization. They were allowed by Pattison Outdoor Advertising, which sells and approves ads for ETS.
Scott Gibb, the company's Edmonton sales director, couldn't outline exactly what was done to check the content, but said the firm normally makes sure ads at least name the sponsor and provide contact information. "We can't always account for what's going to offend everyone. We're in the process of reviewing that with the city," he said, although he didn't know what changes might be made.
The placards, which cost a total of $2,500, were scheduled to stay up until Nov. 17, Gibb said.
In 2009, ETS refused to take ads from an atheist group, saying transit sells products, not personal opinions.
While city staff confirmed a review of the ad approval process will be done, they couldn't say what alternatives are being considered. Mayor Don Iveson isn't sure a wholesale change to the process is required, but he's glad the ads are gone for now. "I think this slipped through the cracks. I think we just need to ensure the cracks are sealed. I don't think we need to overhaul the whole system."
Edmonton Muslim Mohamed Aboudib said he and his family were offended by the ads.
"While all of us agree that domestic violence is a major issue, our problem was … it was specifically targeting Muslims," he wrote in an email. "The (agenda of the) group responsible for the ad is to float under the radar acting like they care for Muslims and offering support, but subliminally conveying the message that this is the type of people Muslims are."
Sohi said he received several complaints about the campaign. "Honour killing is a serious problem … (but) this problem is present in every community, not just the Muslim community," Sohi said. "Honour killing, domestic violence, is present, it's a social issue, in all communities."
He plans to meet transit officials to discuss ways of ensuring ads like this aren't allowed again. "I personally feel embarrassed that happened on city property. We have to make sure these kinds of mistakes don't happen in future."