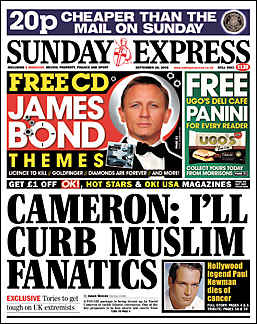 A tough package is being drawn up by David Cameron to tackle Islamic extremism. One of the key proposals is to ban sharia law courts from operating in this country.
In an exclusive interview with the Sunday Express, Mr Cameron's security adviser, Baroness Pauline Neville-Jones, said the Tories were determined to "integrate" British Muslims into mainstream society.
Lady Neville-Jones, a former head of the Joint Intelligence Committee which advises the Prime Minister on terrorism, said: "We are not going to have any status for sharia courts. Absolutely not."
She said the party would abandon the "blind alley of multiculturalism, which has deliberately gone down the road of separation for its own sake".
The Tory plans also include:
Banning a string of groups blamed for encouraging Islamic extremism.
Working with other EU countries to change the Convention on Human Rights which has blocked the deportation of hate preacher Abu Qatada and others believed to be a threat to Britain.
Changing the school curriculum to encourage teaching of British values and make youngsters "proud of their country".
The Conservatives are also looking at extending the list of Islamic groups banned from operating in this country on the grounds they foster extremism. Islamic extremist group Hizb ut-Tahrir, which critics accuse of encouraging the killing of Jews, is a likely target. Lady Neville-Jones said the Conservatives would also look at the activities of certain charities, including the "charitable" arm of the Palestinian terrorist group Hezbollah, which operates freely here.
The major Islamic group Tablighi Jamaat, which wants to build Europe's largest "mega mosque" near the London Olympics site, will also be examined. A spokesman for Tablighi Jamaat said: "Tablighi Jamaat is, in Muslim terms, the equivalent of the Methodist Church. The trustees do not condone terrorism of any kind."
Inayat Bunglawala, of the Muslim Council of Britain, said: "Sharia courts operate with the blessing of UK law. As for banning organisations, we believe in a democracy it is far better to allow all organisations to operate freely, and if individuals happen to break the law then they ought to be prosecuted."