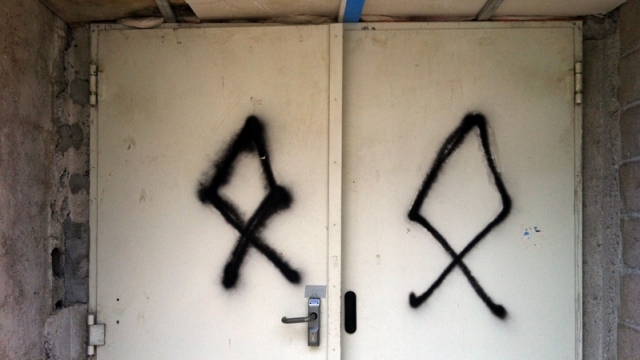 A Muslim leader called Wednesday for surveillance cameras to be installed at every mosque in France following the latest in a series of attacks on Islamic places of worship.
A mosque in Limoges in the centre of the country had excrement smeared on its doors overnight in an incident that reflects a growing trend, according to Abdallah Zekri, who chairs an Islamophobia Observatory set up by France's Muslim Council.
"It is time that town councils took this problem seriously and started putting cameras in front of mosques, as is already the case for synagogues," Zekri said.
Local police said the mosque doors had been daubed with neo-Nazi graffiti at the end of July [see photo]. They also said it was possible the attack was random, as a local restaurant unconnected to the Muslim community was subject to a similar attack earlier this month.
Unlike many mosques in France, the Limoges centre is immediately recognisable as an Islamic place of worship because of its minaret.
"This attack is a grave assault on the dignity of Muslims and is shocking for every citizen who upholds the values of respect and tolerance," Interior Minister Manuel Valls said in a statement.
The incident in Limoges came a month after two pig heads were deposited at the entrance of a mosque in Montauban in the south of the country.
"Possible the attack was random"? The graffiti on the kebab restaurant included a pig's head and the clear assumption behind the attack was that the business was run by Muslims. The graffiti was signed with the initials NRF (presumably a reference to some obscure neo-Nazi group), which were also found on a bridge in Limoges along with the same Odal runes that were sprayed on the doors of the mosque. Who's in charge of the police investigation in Limoges – Inspector Clouseau?