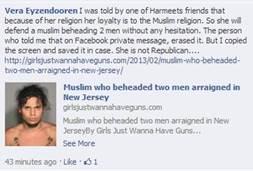 The leader of a San Bernardino County Republican club is being denounced for a Facebook posting that fellow conservatives are calling racist.
Vera Eyzendooren, president of the San Bernardino County Federation of Republican Women, accused a San Francisco attorney who is running for a leadership role in the state party of being a terrorist sympathizer, according to the San Francisco Chronicle.
Harmeet Dhillon is chairwoman of the San Francisco Republican Party and a candidate for vice chairwoman of the state organization.
The Facebook post has been deleted but the Chronicle included a screen grab of Eyzendooren's comments.
"I was told by one of Harmeet's friends that because of her religion, her loyalty is to the Muslim religion," Eyzendooren wrote. "So she will defend a Muslim beheading two men without any hesitation … she is not Republican."
Dhillon is a Sikh who emigrated from India as a child.
Press-Enterprise, 28 February 2013
See also "Harmeet Dhillon, Sikh attorney, hit by racist smears from own party", Huffington Post, 1 March 2013
And "CA GOP mulls how to discipline racist language from SoCal leader", San Francisco Chronicle blog, 2 March 2013