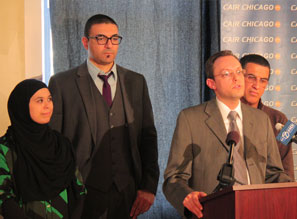 A federal judge has ruled that DuPage County was "arbitrary and capricious" when it denied permission for an Iranian Muslim group to build a mosque on a 3-acre residential property near west-suburban Naperville. Judge Rebecca Pallmeyer issued a 70-page summary judgment Friday that could force the county to reconsider the zoning petition of the Irshad Learning Center.
"I think it's significant not only for this one Muslim institution but all Muslim religious institutions who are facing problematic decisions by their local governments," said Kevin Vodak, an attorney with the Chicago chapter of the Council on American-Islamic Relations, which represented the center. DuPage County has had a number of disputed zoning bids by mosques in recent years, but this is the only one that CAIR has stepped in to represent.
Judge Pallmeyer found the county did not discriminate against the Irshad Learning Center petition on the basis of religion but concluded "the County imposed a substantial burden on ILC," violating state and federal laws that protect the freedom to exercise religion. The Irshad Learning Center case alleged that DuPage County violated certain religious protections afforded by the Religious Land Use and Institutionalized Persons Act, the U.S. Constitution, and the Illinois Religious Freedom Restoration Act.
The zoning matter could now go back to the County Board. "We're hopeful that the county fully complies with that decision," said Vodak, referring to the judge's ruling. "If so then we will be seeking damages and attorneys fees based on our litigation in the case and Irshad's expenses having to maintain the property as it not being tax-exempt at this stage because they were denied the permit." Vodak said he has no estimate yet for total damages.
See also  "CAIR-Chicago wins judgment for Muslim center's freedom of religion", CAIR press release, 1 April 2013