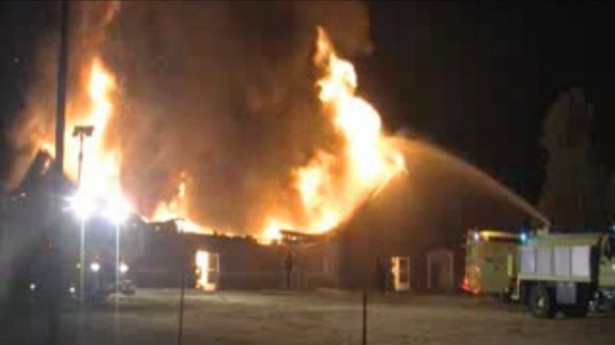 Islamic Society of Joplin building in flames on 6 August
A prominent national Muslim civil rights and advocacy organization today issued a preliminary report on a spike in anti-mosque incidents that occurred in late August following a massacre of Sikh worshippers in Oak Creek, Wis.
The Washington-based Council on American-Islamic Relations (CAIR) reports that in the 13-day period between August 6 and August 18, there were eight incidents in which Muslim places of worship were targeted. As a comparison, in the first seven months of 2012 there were 10 such incidents.
CAIR's report comes one day before the U.S. Senate Subcommittee on the Constitution, Civil Rights and Human Rights plans to hold a hearing on hate crimes and domestic extremism. It comes just after a mosque in Virginia was vandalized in an apparent bias incident.
In the report, CAIR observes that an apparent tolerance of anti-Muslim discourse in mainstream society was "comfortably on display" in the weeks preceding the spike. As evidence, CAIR cites comments from mosque opponents in Tennessee, significant financial support for a candidate for Congress based on her anti-Islam stance, Islamophobic remarks by Rep. Joe Walsh (R-IL), and a private meeting between Republican presidential nominee Mitt Romney and Islamophobe Gen. Jerry Boykin.
CAIR also notes that, in addition to the tragic massacre of Sikhs in Oak Creek, a guard at a conservative Christian organization was wounded and an Arab Christian church in Michigan was vandalized during the same time period.
"Attacks on churches, mosques, synagogues, gurdwaras, or any other places of spiritual reflection are anathema to a nation built on a foundation of free religious expression," said report author Corey Saylor, CAIR's national legislative director. "Our nation would be well served if our political leaders repudiate Islamophobic fear-mongering in the same way they reject white supremacist and anti-Semitic rhetoric."