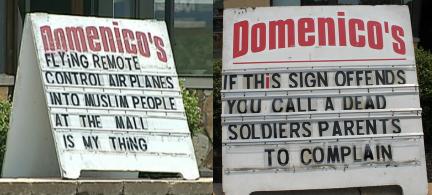 After the controversial sign he posted in front of Domenico's Ristorante in Cranberry caused a stir in the community (including on the Cranberry Patch site), owner Michael Pollice has had a change of heart. "I like to push stuff as far as it can go," he said. "I will never do that again, because it hurts people."
Pollice, who is known in the community for his thought-provoking – and sometimes controversial – signs, erected a sign last week that said "Flying Remote Control Airplanes into Muslim People at the Mall is My Thing."
The sign, which received local – and even national – media coverage ignited a firestorm of responses that ranged from support of Pollice's message – which he said was a joke – to defense of First Amendment rights to downright outrage and disgust.
In just a few days time, Cranberry Patch received close 100 responses from readers giving their opinion on the issue. Many threatened to boycott the restaurant.
According to Pollice – who said business at the restaurant actually increased – the responses at first inspired him to poke back (which he did in the comment section of the Cranberry Patch article) and to push the envelope even further. By Saturday, a new sign he posted in front of the restaurant read, "If This Sign Offends You, Call a Dead Soldier's Parents to Complain."
Then a phone call changed his mind.
Pollice said Asim Kokan, a board member of the Pittsburgh chapter of the Council on American-Islamic Relations, asked him Wednesday for a face-to-face get together to talk about the sign.
Pollice agreed to the meeting, which also was attended by Kazim Reza, a member of the Muslim Association of Greater Pittsburgh and a local realtor, Scott Rudolph, a pastor with the Unitarian Universalist Church in Franklin Park and Donna McNamara, an active member with the North Hills Anti-Racism Coalition.
Pollice said he had never before spent time with Muslims, and doing so changed his attitude. After explaining he thought of the sign as a joke, he and the visitors got along fine. "Those guys were great," he said. "They could have been jerks to me."
Pollice added he apologized numerous times to the group – and even offered to hold a fundraiser at the restaurant to benefit a new mosque for the Muslim Association of Greater Pittsburgh. The association currently rents a space in Wexford.
"I think it was good thing for me," Pollice said of the meeting. "I'm better for the experience."
Unsure at first of what to expect, Reza said he also was pleasantly surprised at the meeting. "He was very calm and very apologetic for hurting the feelings of Muslims and others," he said of Pollice.
The McCandless resident – who moved from India to the United States in 1954 to attend college – said the group learned about the Domenico's sign from an email a woman originally sent to the Islamic Center of Pittsburgh that was forwarded to other mosques around the area. "She felt is was very, very inappropriate," Reza said of the emailer. "She felt hurt. She felt it was totally uncalled for."
Part of CAIR's mission is to enhance understanding of Islam, which is why the group – which meets up for North Hills Anti-Racism Coalition events – scheduled the meeting with Pollice. Reza also invited anyone with an interest in learning more about Islam to attend prayers at MAP's mosque in Wexford.
"We do not stop anybody. Anybody can come," he said. "You only have to follow the basic disciplines of the mosque."
As for Pollice, he said the incident wouldn't deter him from posting quirky signs in the future. By Thursday, he had a new sign up that he said shouldn't offend anyone – except maybe marine life. It reads, "Dolphins are Just Sharks Who Watch Glee."