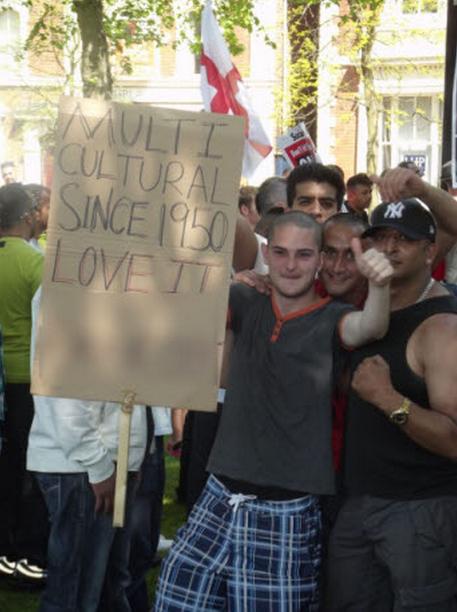 A leading figure from Redditch Mosque has praised residents for standing shoulder-to-shoulder with the town's Asian community following a demonstration by the English Defence League.
Hafiz Ghulam Rasool, head of education at Central Jamia Masjid-E-Noor (Redditch Mosque Trust), expressed pride in the Redditch community, particularly the hundreds of people from all faiths and sections of society who joined a counter-demonstration against the 40 or so EDL members police estimate turned up to protest in Church Green on Saturday (May 26).
"We know Redditch is a diverse community both cohesive and integrated with no racial tensions. Our Mosque members feel the people in Redditch generally are friendly, co-operative and supportive, making it a fabulous part of the United Kingdom to live in.
"Together we need to unite against and resist, counter and refute these mongers of hate to maintain our exemplary social cohesion and keep our town free from their hatred and their scare mongering tactics," he said.
"Our appreciation goes out to all the people of Redditch community for their thoughtfulness and for many of them partaking in the much larger and peaceful counter demonstration with the most respectful and highly dignified conduct that is a tribute to all of us."
He added with the Diamond Jubilee, European Championships, Olympics and the month of Ramadhan coming up he hoped it would provide an "arc of unity". An event to celebrate Redditch's diversity is also being planned.
Kevin Dicks, chief executive of Redditch Borough Council who watched the largely peaceful protest unfold from West Mercia Police headquarters, said: "We have a really diverse community here in Redditch and one we are proud of. We want to work with the community over the coming weeks and months to organise something that is a celebration of Redditch."
The statement in full:
We primarily thank the West Mercia Police, local authority and partner agencies for ensuring that the EDL March came to pass with only a handful of low level of isolated incidents. This was due to the success of the controls and security put in place by the timely strategic planning, public consultations and effective running of operations on the day.

We know that Redditch is a diverse community both cohesive and integrated with no racial tensions. Our Mosque members feel that the people in Redditch generally are friendly, cooperative and supportive and making it a fabulous part of the United Kingdom to live in. Together we need to unite against and resist, counter and refute these mongers of hate to maintain our exemplary social cohesion and keep our town free from their hatred and their scare mongering tactics.

Our appreciation goes out to all the people of Redditch community for their thoughtfulness and for many of them partaking in the much larger and peaceful counter demonstration with the most respectful and highly dignified conduct that is a tribute to all of us.

The Redditch community has always done us proud and truly celebrates our diversity by recently twinning Redditch with the city of Gujar Khan in Pakistan.

Hopefully the forthcoming Queens Golden Jubilee, the European Cup, Olympics and the month of Ramadhan with its many Eid festivals will universally cascade an arc of unity highlighting a rainbow of nations and races in peaceful existence that reflect the true spirit of Britain and the global world we live in today. Many of us will be planning our holidays to the very countries of origin of the many minority communities residents of Redditch that contribute towards its diversity. All divine faiths preach a message of tolerance, peace and harmony with universal human values especially safeguarding the honour and dignity of our neighbours and communities.

Finally we continue to feel proud of our town particularly its social administration and residents that reinforces a positive sense of community that we are committed to pass onto our future generations.

Hafiz Ghulam Rasool

Head Of Education

Central Jamia Masjid-E-Noor (Redditch Mosque Trust)
Redditch Standard, 1 June 2012