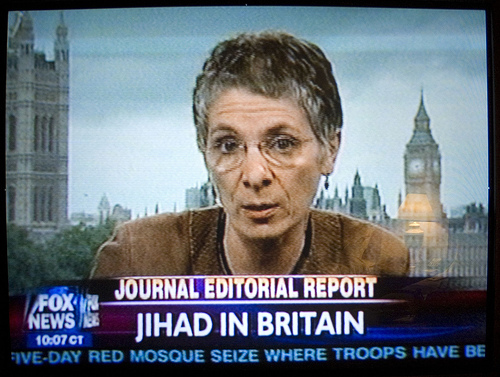 "In Britain, the war in Gaza has revealed the extent to which the media, intelligentsia and political class have simply crumbled in the face of the global jihad….
"Years of demonizing Israel and appeasing Islamist extremism within Britain have now coalesced, as a result of the media misrepresentation of the Gaza war as an atrocity against civilians, in an unprecedented wave of hatred against Israel and a sharp rise in attacks on British Jews.
"Throughout the war, London's streets have witnessed a hallucinatory level of violent and explicit support for Hamas from Muslims, members of the far left and supposedly progressive individuals….
"Last Thursday, Mr. Miliband wrote in the Guardian that there was no single, unified Islamist threat but merely a set of various local grievances, such as Kashmir or the Golan Heights. Such startling ignorance of the goals and ideological antecedents of the Islamic jihad, from Hamas to Hezbollah to Pakistan's Lashkar-e-Taiba, is of a piece with the British government's stubborn refusal to accept that the West is under assault from a war of religion.
"The government denies this fact because it does not want to face up to the unpalatable realities of fighting such a war. So although 'middle Britain' is beginning to grasp that the Islamists in Gaza are the same as those rampaging through the streets of London, ministers are intent on appeasing Muslim extremism and intimidation both at home and abroad.
"Accordingly, while Britain's security services have had significant success in smashing Islamic terrorism plots, government strategy for combating Islamist extremism rests upon seeking to mollify Britain's two million or so Muslims by avoiding confrontation – which means turning a blind eye to threatening statements.
"Recently, prominent British Muslims who advise ministers against Islamist extremism wrote an open letter making the veiled threat that unless the government condemned Israel there would be a rise in violence in Britain.
"Ministers' openly stated fear that this will indeed happen as a result of the war in Gaza makes them anxious to show Britain's Muslims that they oppose Israel's actions. They don't understand that, by showing such weakness in the face of intimidation, they are not just betraying their Israeli ally but also undermining the Western defense against the jihad.
"Across the spectrum, Britain's elites are terrified of dealing with militant Islamism. It is hard to avoid the conclusion that, in a pattern which goes back to the foundational Christian blood libel against the Jews, they are concealing their fearful inability to deal with Islamist aggression by displacing the blame onto its Israeli victims instead."
Melanie Phillips in the Wall Street Journal, 20 January 2009