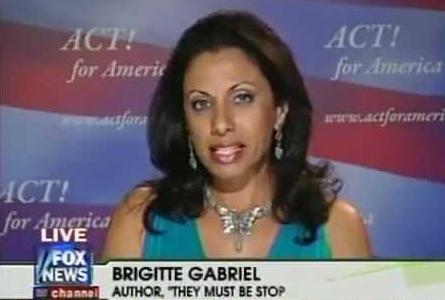 "The Obama adminstration is focused on how to run and manage our lives. They are refusing to protect us from Al-Qaeda and radical Islam."
That was part of the message that counterterrorism speaker Brigitte Gabriel delivered Saturday at the Taylor County Expo Center on behalf of the Abilene 912 project. Gabriel is co-founder of Act! for America, a grass-roots organization whose goal is to "effectively inform, educate and mobilize Americans regarding the multiple threats of radical Islam," according to its website.
"Al-Qaeda is run under American management," Gabriel said. She noted cases such as American born-cleric Anwar al-Awlaki, who allegedly inspired Fort Hood shooter Nidal Hassan and that Al-Qaeda's current chief operations officer grew up in Florida. Citing these and other examples, she then touched on events imbedded with controversy.
"How can people complain about Peter King holding hearings?" Gabriel said, referring to the hearings being held by the congressman in Washington, D.C., on the radicalization of American Muslims that have drawn heavy criticism from Muslim groups and other politicians. "Throw political correctness in the garbage, where it belongs!" she said emphatically, drawing a standing ovation from the audience.
She went even further, telling the audience that radical Islam, in the form of the Middle East-born organization the Muslim Brotherhood, was infiltrating the United States.
"They have a 100-year plan for Islam to dominate the United States and take over the rest of the world," Gabriel said, referring to an document from the Muslim Brotherhood that she said came to light in the trial of an Islamic charity after the 2001 attack.
She cited mainstream Muslim organizations such as CAIR (Council on Islamic Relations), the Muslim Students Association and ISNA (Islamic Society of North America) as being fronts for the Muslim Brotherhood.
"CAIR works with groups like the ACLU (American Civil Liberties Union)," she said. "What could they possibly have in common? They are useful idiots in the hands of our enemies."
"There are more chapters of the Muslim Students Association then there are of Democratic or Republican organizations on college campuses in the U.S.," she said, drawing gasps from the crowd.
Gabriel then discussed how Saudi Arabia had spent more than $85 million funding universities across America, and also told the audience of an instance in a California middle school where students were, in her words, "forced to become Muslims for two weeks."
After the speech, audience members reacted positively. "I really didn't know how bad the infiltration was in America," said Wes Hamilton, whose boss had given him free tickets to the event. "I don't know how dangerous it will become if we don't do something about it."
Stan Keen came from Mertzon, near San Angelo, to see Gabriel. "I agree with pretty much everything she had to say," Keen said. "She's against everything the left stands for."