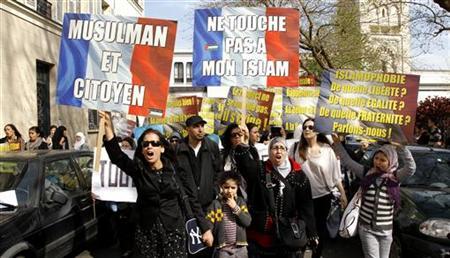 France's ruling conservatives are pressing ahead with a public debate on Islam and secularism on Tuesday despite criticism that it is an excuse to pander to far-right voters ahead of a general election next year.
Sarkozy's UMP party said in December that it would host a public forum to address fears about Islam's role in French society, following controversy over Muslim street prayers, halal-only restaurants and full-face Islamic veils.
But a hail of criticism from religious leaders and some party members has forced the UMP to downsize the event and fight off accusations that a focus on Islam will provide cover for the airing of anti-Muslim prejudices among the French.
"They can't cancel it now," said Jean-Francois Doridot, an analyst at the Ipsos polling agency. "It's a sort of trap that is closing around the UMP, and they are trying to get themselves out of it one way or another."
Amid sharp criticism from religious leaders, party officials have bickered over the need to hold a debate at all, France's largest Muslim group has announced a boycott, and Prime Minister Francois Fillon declined his invitation to attend.
The guest list for Tuesday's debate has yet to be confirmed, but Interior Minister Claude Gueant – who came under fire recently for saying the French "no longer felt at home" – will attend, as will party spokesman Jean-Francois Cope.
Advocacy groups have promised to picket the event. "This is not a debate, it's a trial," said Nedjma Boutlelis, the head of an advocacy group that held a street protest against the debate on Saturday. "I don't see the point of holding a debate simply to charm the far-right."
See also Financial Times, 4 April 2011