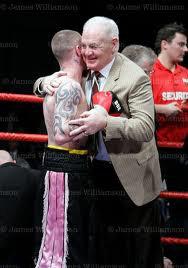 The manager of boxing champ Ricky Burns is facing a racism probe after a hate-fuelled rant about Muslims appeared on his Facebook page. The posts on Alex Morrison's page refer to Muslims as "deceitful scum" and "pigs" and urge people to boycott their businesses.
Bosses at the British Boxing Board of Control are to discuss the outburst at a meeting this week and will ask Glasgow-based Morrison, 72, to explain. A source said: "The board agree that what's on Alex's page is racist and brings the sport into disrepute. They've been made aware of the comments but been unable to officially discuss them. That will happen in the next few days and he'll be asked for an explanation."
Morrison – a former boxer himself – has been the manager of world lightweight champ Burns for 10 years. The Coatbridge fighter signed a new three-year contract with him just weeks before he successfully defended his title for the third time against Jose Gonzalez at Glasgow's Emirates Arena last month.
The initial outburst appeared on Morrison's page on May 23 – a day after soldier Lee Rigby was murdered by Islamic terrorists in Woolwich, London. Drummer Rigby's death has sparked an anti-Muslim backlash which has seen an increase in hate-fuelled incidents including attacks on mosques and Muslim-owned businesses.
A second anti-Muslim rant appeared on May 28 after imam's son Mohammed Omar Abdi was gunned down in Edinburgh in a suspected gangland hit. That message urged people not to vote for Muslim politicians – highlighting the racist murder of teenager Kriss Donald and the terror attack on Glasgow Airport.
Neither message has been removed.
The first post reads: "The radical Muslims are bringing about the end of our civilised world and we allow it and pay them benefits as well. I am not suggesting that we go out and start burning mosques but we should boycott their shops. The Sikhs and Hindus are good people but the other lot are filthy, conniving, cunning, deceitful scum. They treat their woman as inferior beings and say that 'white' girls are just for practice. It turns my stomach when I see a white girl swathed from head to foot like a Muslim with one of these pigs."
The second post, three days later, reads: "The death of the Imam's son in Edinburgh and the fact that dad is a mosque leader should open our eyes to what we have allowed into our country. Have we forgotten about Kriss Donald already and the attack on Glasgow Airport?"
Via ENGAGE