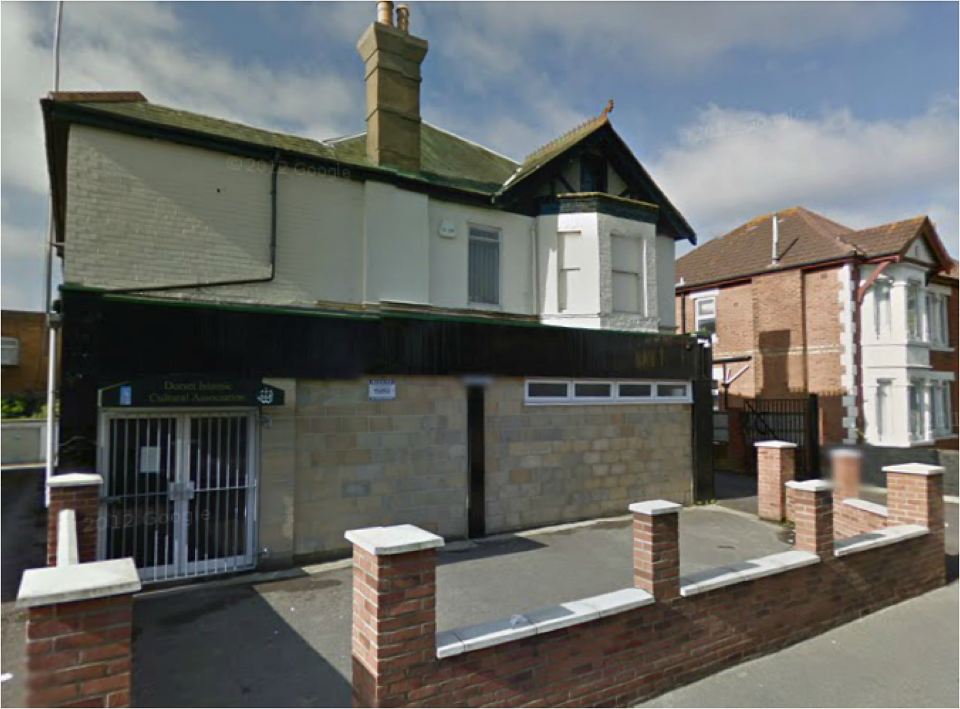 Two men have been arrested after a mosque was attacked by four men in Ashley Road, Parkstone yesterday. Four windows were smashed at the premises around 3.50pm. The premises of the Dorset Islamic Cultural Centre were understood to be unoccupied at the time.
The attack has been condemned by members of the local community.
One man was arrested at the scene and is currently helping police with their inquiries. Another man was arrested later in the evening. Inquiries are on-going into the incident and two other men are still being sought in connection with the attack.
Chief Inspector Richard Bell of Dorset Police said: "We have spoken to the occupants of the premises and reassured them that we will be paying closer attention to the premises."
One business owner in Ashley Road said the first he knew about it was when he saw the police cars outside the building yesterday afternoon.
"There were about three or four cars. They left around 5pm but there was a police man on guard. I don't think this is the first time the mosque has had problems. It's terrible. At the end of the day I can't see there is any justification for an act like this. Everyone is entitled to their religion."
Another woman who works locally said: "My colleague saw them with sticks. They parked right outside and one stayed in the car I was told. I don't know what they thought they were doing. It's totally mindless."
One female resident said she wasn't aware of the attack but condemned the people who were targeting the Islamic religion.
"These two men who committed these atrocious acts are not representative of Islam. It was a horrendous crime. We've never had any problems with anyone worshipping at the mosque. Friday here is just like church on a Sunday or living near a school any day of the week. Ignorance breeds fear and unfortunately I think that's what has happened here."
In 2009 a teenager who who racially abused worshippers at the mosque was jailed for two years.
Dorset Police said: "At 3.51pm on Thursday 23 May 2013, Dorset Police received a report of criminal damage at the Dorset Islamic Cultural Association building along Ashley Road in Poole.
"Officers attended and two men, a 35-year-old Shaftesbury man and a 38-year-old Poole man, were subsequently arrested on suspicion of racially and religiously aggravated criminal damage and are helping officers with their enquiries.
"Safer Neighbourhood Team officers are liaising with the Muslim community to provide reassurance. Anyone with any information about this incident should contact Bournemouth CID on 101, quoting incident number 23:299."
Superintendent Nicky Searle said: "In light of Tuesday's tragic incident in Woolwich, London, Dorset Police is actively working with all communities in the county through Safer Neighbourhood Team officers to address any concerns about safety in Dorset.
"I would like to encourage anyone who sees any suspicious activity to immediately call, in confidence, the Anti-Terrorist Hotline on 0800 789 321, Crimestoppers on 0800 555 111, or the police by dialling 999. The key thing to remember is that if you suspect it, you should report it without delay."
The attack was among the concerns raised by Poole residents at this morning's Police and Crime Commissioner Forum in Alderney. Dorset PCC Martyn Underhill said afterwards: "There is no room for hatred in our communities."
The updated report in the Bournemouth Echo states that Robert Mullins of Shaftesbury and Trevor Mullins of Poole have been charged with racially aggravated criminal damage