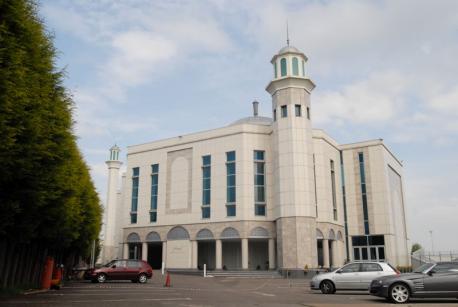 Police deployed officers to guard Morden mosque yesterday after extreme racist threats appeared on social media sites calling for it to be burnt to the ground.
The threats follow the murder of 25-year-old Drummer Lee Rigby by two men on Wednesday (May 22) in Woolwich which led to about 250 English Defence League (EDL) supporters rioting outside Woolwich Arsenal station.
The Baitul Futuh Mosque, in London Road, is the largest in western Europe and was targeted on a Facebook page named True British Patriots. Users on the page referred to Muslims as "f****** muzzies" and called for mosques in Watford, Braintree in Essex and Morden to be burned to the ground.
Following attacks on mosques in Gillingham, Kent and Bolton, one user, Steve Dungey, said: "We need more of this there is a mosque in mordon south london burn it down."
Yesterday evening, Dean Wyatt (@DWYATT90) posted an apology on Twitter after receiving a caution from the police for posting an offensive tweet. He wrote: "Anyone fancy doing the mosque in morden over?"
In a series of tweets, he wrote a message of apology: "I published a tweet yesterday about morden mosque which was offensive I sincerely regret writing this tweet and had no intention of in sighting [sic] any hatred or reaction as a result of my action I've been spoken to by police and fully appreciate how my actions may have Misconstrued to the detriment of the community of merton."
He later tweeted: "Police told me to write it."