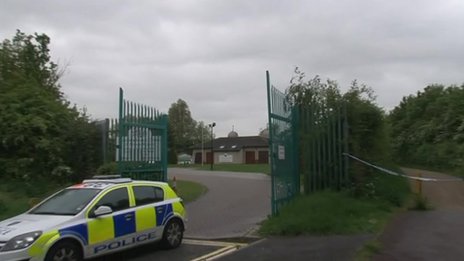 A lighted bottle of inflammable liquid has been thrown onto the roof of a Milton Keynes mosque, police have said.
The Zainabia Islamic Centre in Peverel Drive, Granby, was subjected to an arson attack on Thursday night when about 30 people were inside. Witness Fazilat Shivji said members of the community managed to deal with the flames before firefighters arrived.
Police said they would like to talk to witnesses as they had few details so far. No significant damage was caused.
Mrs Shivji said her husband, who saw "a streak of fire", was waiting for her outside the women's entrance of the mosque and shouted for them all to get out. "[The projectile] landed on the roof but it did not catch on to anything so there was nothing for it to really ignite," she said. "Luckily, the men who were there managed to put it out before the fire brigade got there. We were just grateful it happened while we were there and the device could be controlled immediately."
Mrs Shivji added that while the incident was "shocking", it was not the first time it had happened, with a similar attack about a year ago. "We expect it at times of trouble," she said.
She added that following the attack she was "sad and anxious", especially after the murder of a soldier by two assailants in Woolwich on Wednesday, and allegations that one of the suspects was an Islamist extremist. "I think I am more scared now than at 9/11, which is surprising," she said. "The vilification of Islam and Muslims is getting worse day by day and incidents like [Woolwich] don't help at all, but these are fringe elements."
Det Insp Nick Glister said: "We are currently in the infancy of the investigation and details are limited at this time. I would appeal to anyone who has information about this incident to contact us. There were people inside the mosque at the time of the incident and this could have been far worse had it not been for the quick actions of the people who were standing outside at the time."
Peter Geary, cabinet member for communities at Milton Keynes Council, said: "I am appalled by this incident, and am sure every resident in Milton Keynes will be appalled by this. One of Milton Keynes' great strengths is the partnerships we've built across communities, and I urge local people to build on these strong relationships in response to this pointless and cowardly act."
Shabir Sabur, President of Zainabia Islamic Centre, said: "Such acts committed by individuals or groups can never divide the nation. These criminals and terrorists must never be allowed to win, with all our communities and the nation united in our determination to fight off all forms of criminal and extreme behaviour and hate crimes, from whichever quarter it comes from."
See also Heart, 24 May 2013
And "Petrol bomb attack on Granby Mosque 'appalling'", Milton Keynes Citizen, 24 May 2013