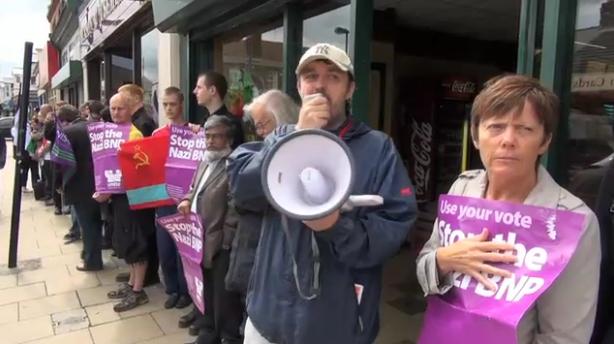 BNP members have met with an angry backlash in Sunderland as they gathered to protest against the use of halal meat in Subway sandwich shops.
Party members and their anti-fascist opponents faced each other across the road as they gathered on either side of St Luke's Terrace.
The Echo reported yesterday how BNP leader Nick Griffin planned a protest outside the Pallion Subway branch today against the company's use of halal meat in its sandwiches. Mr Griffin, who failed to turn up to the protest, said the use of such meat was cruel.
Union members, representatives from United Against Fascism and workers on their lunch hour came out to stand in front of the Subway store to prevent the controversial right-wing party from delivering their message.
Police lined the street preventing opposing protesters from crossing the road as they chanted through loud speakers. And eventually the rally came to an end when the police moved people from both sides on.
See also "No-show from leader Nick Griffin at BNP demonstration in Sunderland", Sky Tyne and Wear, 19 July 2012