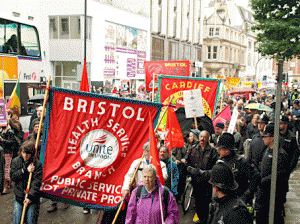 Labour's Bristol mayor candidate Marvin Rees has been accused by a rival politician of being "naïve and weak" in his handling of the run-up to Saturday's EDL march and counter-protests.
Mr Rees was also branded as "easily led" in the statement released today on behalf of Lib Dem councillor Gary Hopkins. But the mayoral candidate has hit back – saying he is "disappointed" by the move.
Mr Hopkins' statement notes that Mr Rees and other Bristol Labour politicians appeared on Unite Against Fascism (UAF) leaflets before the counter-protests on Saturday, and that violent clashes had broken out between counter-EDL protesters and the police.
The councillor, who is in charge of community safety in his council role, said: "The Labour Party were well aware that there was likely to be street violence but still persisted in supporting direct counter-demonstration and, it is reported, speaking at the rally.
"Labour councillor Mike Wollacott faces calls to step down from his position of responsibility on the council after he tried to put pressure on the council leader to speak on behalf of UAF and then ignored police attempts to bring order by encouraging a potentially dangerous assembly in a provocative place. Does Mr Rees support Councillor Wollacott or not?
"This was totally irresponsible. Marvin Rees has shown himself to be weak, easily led and – if he didn't realise violent disturbances might follow – naïve, as well."
Mr Wollacott told ThisisBristol that the calls for his resignation after he had asked the council leader to speak at the demonstration made it a "disappointing day for democracy" .
Mr Rees reacted to Mr Hopkins by saying it was "simply not good enough to abdicate responsibility" when it came to the issue of the EDL march, and that Bristol needed "change and leadership".
He said: "Let's remember the most important thing here is standing up against the dangerous and divisive politics the EDL represent. At the same time, it goes without saying that under no circumstances would I support violent protest.
"I'm disappointed in Gary and the Liberal Democrat press office. The challenges thrown up by the EDL march are just too important to Bristol's future to be used for Party posturing, yet that is what the Liberal Democrats are doing with them. Their press release lacks insight, understanding and accuracy."
Mr Hopkins also criticised Bristol Labour MP Kerry McCarthy for letting herself be reported calling for a ban of the EDL march, which he said was "wholly irresponsible".
"She has some explaining to do," he said. "Was she deliberately stirring up passion and anger for political gain or was she genuinely so ignorant of the facts that she thought a ban was possible?"
Kerry McCarthy replied: "Yet again Cllr Hopkins and the Liberal Democrats have taken a cowardly and unprincipled position which has been characteristic of their time in office.
"I am, of course, opposed to all violence and that is why Cllr Wollacott and I were in frequent contact with Pride, UAF and the police to ensure these groups were talking to each other and working together.
"It is a disgrace that the Lib Dems failed to take leadership. They have focused all their energy on attacking those standing against division and violence, while failing to speak out against the disruption the EDL brought to Bristol."