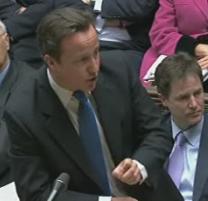 Prime Minister David Cameron admitted on Wednesday that Britain had not done enough to counter domestic Islamic extremism and vowed to do more, after it emerged that a Swedish suicide bomber studied here.
"I think if we're frank on both sides of the House (of Commons), we have not done enough to deal with the promotion of extremist Islamism in our own country," he told MPs.
News that a suicide bomber who attacked a busy shopping street in Stockholm on Saturday had studied and lived in Luton has raised fresh soul-searching about how to combat radicalism, five years after four home-grown bombers attacked the London transport system in 2005, killing 52 people.
"Whether it's making sure that imams coming over to this country can speak English properly, whether it's making sure we deradicalise our universities, I think we do have to take a range of further steps and I'm going to be working hard to make sure that we do this," Cameron said.