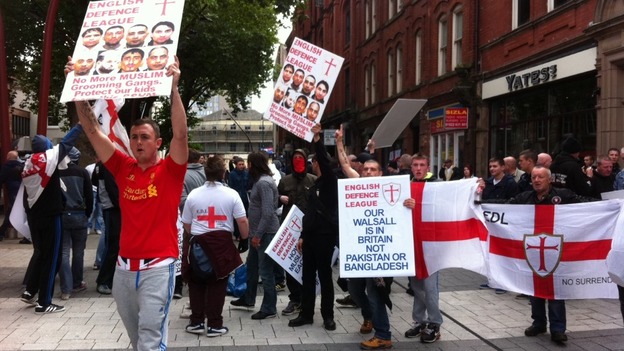 Police clashed with members of the English Defence League during protests in Walsall town centre today.
During speeches given by leaders of the EDL, the crowd surged towards police lines on Leicester Street. Officers with riot gear used batons and shields to hold back the demonstrators. Scores of missiles – including bricks, bottles and litter bins – were hurled at police.
At 3pm officers cleared Lichfield Street with a shields charge as members of the EDL were herded on to buses to transport them away from the town centre.
West Midlands Police said they have no power to ban a static protest and the right to protest peacefully was a sign of a healthy democracy.
Birmingham Mail, 29 September 2012
See also "28 arrested following EDL demonstration in Walsall", ITV News, 29 September 2012
And "EDL's Walsall flop is another nail in its coffin", UAF news report, 29 September 2012
Update:  See "EDL protest in Walsall: 28 arrested as scenes turn ugly", Sunday Mercury, 30 September 2012
And "EDL outnumbered and frustrated by anti-racists in Walsall", Socialist Worker, 30 September 2012
It appears that the total of arrests now comes to 29.