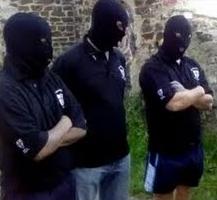 Anti-Muslim extremists linked with serious unrest in England are planning a major demonstration in Glasgow, it has emerged. The English Defence League aims to take to the streets of Scotland's biggest city on Saturday, 14 November, sparking major safety concerns among police and council insiders.
A spokesman for Glasgow City Council yesterday said "any application would be considered". However, senior officials at the authority, which has the power to ban marches on police safety advice, would be keen to block any demonstration that is deemed likely to lead to violence.
The Glasgow demonstration was announced on the Facebook website this week. Some 132 people have already said they will attend. The time and place of the rally have still to be settled. Any attempt to approach sensitive areas, such as Glasgow Central Mosque, would present serious public safety problems, city insiders confirmed to The Scotsman.
The Scottish Islamic Foundation yesterday said it would be organising a public meeting within the next seven days to work out how it should respond to extreme anti-Islamic groups crossing the border. The group's chairman, Asif Ahmed, said:
"This is time for Scotland to once again show we will not be divided by extremists. We have faced worse and come through it. The last time Glasgow was tested was at the 2007 airport attack. What we saw then was all strands of society coming together for a remarkable show of solidarity in George Square. We'll be working again to make sure that the numbers peacefully opposing extremism will far outstrip that of the haters."
The Scotsman, 18 September 2009
See also SIF news report, 17 September 2009