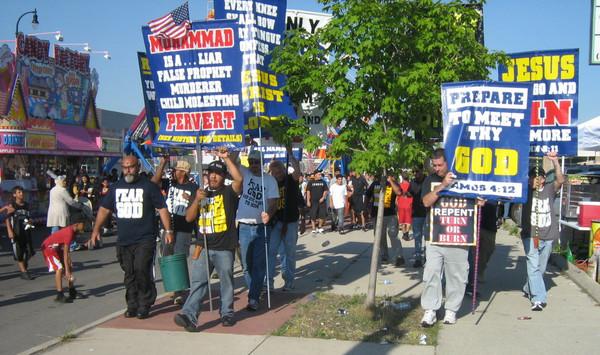 For a brief moment Friday, the song "Why Can't We Be Friends?" blared over the speakers of a ride at the Arab International Festival in Dearborn; but nearby, an anti-Islamic protest made its way down Warren Avenue, drowning out the lyrics' message of friendship with the angry shouts of attendees.
While the majority of the festival remained unscathed, the Bible Believers – a small contigent with an anti-Islam message – protested at the fair on Warren Avenue.
Near them, separated by Wayne County police, a crowd of 50-100 counter-protesters contested the group's presence with words and actions. Most were teenagers, while several adult festival-goers urged the youth to break up their groups and ignore the protest.
The group, armed with signs preaching messages against Islam, stayed for about an hour and a half. Bottles were thrown, swear words were shouted and obscene gestures were made while the police routinely stepped in to separate the groups. Midway through the affair, four mounted police officers were brought in to quell the crowd.
In total, the festival stretched several blocks and the protestors affected only a small area of the event. Nonetheless, two festival attendees were detained and issued citations for disorderly conduct, according to Wayne County Deputy Chief Mike Jaafar.
No official arrests were made, and Jaafar said his team was please overall with the outcome.
This the second time that the Bible Believers have staged a provocative demonstration at the festival with their abusive banners, which denounce Islam as a "religion of blood and murder" and the Prophet Muhammad as a "child molesting pervert". They did the same last year.
Update:   See also "Christian missionary group with pig's head taunt Arab-Americans at Dearborn festival", Detroit Free Press, 16 June 2012