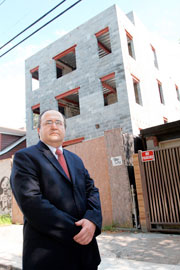 Assembly hopeful Ben Akselrod is railing against the construction of the Sheepshead Bay mosque – a hopeless battle political insiders say the former Community Board 15 district manager has no chance of turning around, but will help him pander to Southern Brooklyn conservatives looking to get rid of the Muslim house of worship.
Akselrod, a Democrat looking to unseat Assemblyman Steven Cymbrowitz (D–Sheepshead Bay) in September, claimed last week that the mosque being constructed on Voorhies Avenue will harm property values, cause a traffic nightmare on the block and draw radical elements to the leafy residential neighborhood.
"The Muslim American Society – the organization behind this mosque – originate from the Muslim Brotherhood, an organization that was outlawed in the U.S.," said Akselrod, alleging the mosque backers have terrorist roots.
Akselrod's voiced his opposition just two weeks after state Sen. David Storobin wrote a letter to Mayor Bloomberg claiming that the mosque is thumbing its nose at city laws and threatens its neighbors' lives. "This may pose a danger to public safety," Storobin (R–Brighton Beach) wrote as he bashed the city for allowing work on a house of worship continue.
Some say Akselrod's sudden opposition to the mosque is all about getting the support of the Bay People – the group that's repeatedly failed to get the project halted – and residents against the mosque's construction. His opposition is also geared to make him stand out from Cymbrowitz, who they say hasn't responded to the Bay People's repeated pleas for help.
Brooklyn Daily, 14 August 2012
See also Sheepshead Bites, 14 August 2012