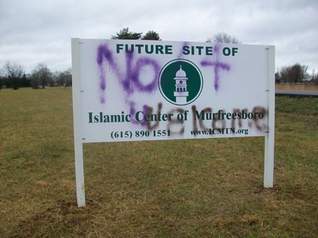 An Islamic mosque, the second one in as many months, is facing opposition from residents who don't want the religious house constructed in an area zoned for it.
With a growing Muslim community in Rutherford County, the Islamic Center of Murfreesboro wants to build on Veals Road. The project done in phases could take years to finish: a 52,000-square-foot mosque, with a community center and athletic fields.
Tonight, as many as 17 residents have signed up to speak before county commissioners to express their frustration with the Rutherford County Planning Commission's May 24 approval of the site plan. The meeting is slated for 6 p.m. in the County Courthouse on the Public Square.
Last month, plans for a separate mosque in Brentwood were soundly defeated when residents who were against rezoning the land mounted a campaign that raised suspicions about the mosque and its leaders. Opponents encouraged residents to write letters to the city commission, and stirred more controversy by questioning links to terrorist groups.
The Muslim community is confused over the opposition. They've been good neighbors and residents in Rutherford County, they said. Shortly after the devastating 2009 tornado, Muslim families delivered 2,500 meals to those affected. They volunteered to help the community. They invited Christian and Jews alike to take part on their holidays.
When they announced their plans to build their dream facility, they also invited residents. They didn't expect a backlash.
Now they are answering to rumors of polygamy, Islamic doctrine and whether they will adhere to the U.S. Constitution, said Essem Fathy, a physical therapist who has lived in Murfreesboro since the 1980s. "We have nothing to hide," Fathy said. "We do not have a hidden agenda. We're not affiliated with anyone. Where is the tolerance?"
Delbert Ketner, a retired resident who opposes the mosque, questions the goals of those who practice Islam. "If their goal is to advance Islam, advance their culture, then there is no real affection for our Constitution and the precepts we were founded on," Ketner said.
Daily News Journal, 17 June 2010
---
Update:  The Tennessean reports: "Hundreds of residents packed Thursday's Rutherford County Commission meeting where more than 20 voiced opposition to a planned Islamic center on Veals Road off Bradyville Pike. 'We have a duty to investigate anyone under the banner of Islam', said Allen Jackson, the pastor of World Outreach Church in Murfreesboro."
WSMV Nashville reports: "A plan to build a mosque and Islamic center in Rutherford County encountered heavy opposition Thursday night. So many people turned up for the public hearing at the Rutherford County courthouse, authorities wouldn't let them all in. Upstairs, a stream of residents told the county commissioners they believe a mosque is a threat to public safety. Karan Harrell said the community needs to 'wake up before it's too late'. She said, 'everybody knows who's trying to kill us, but we're not allowed to say it'."