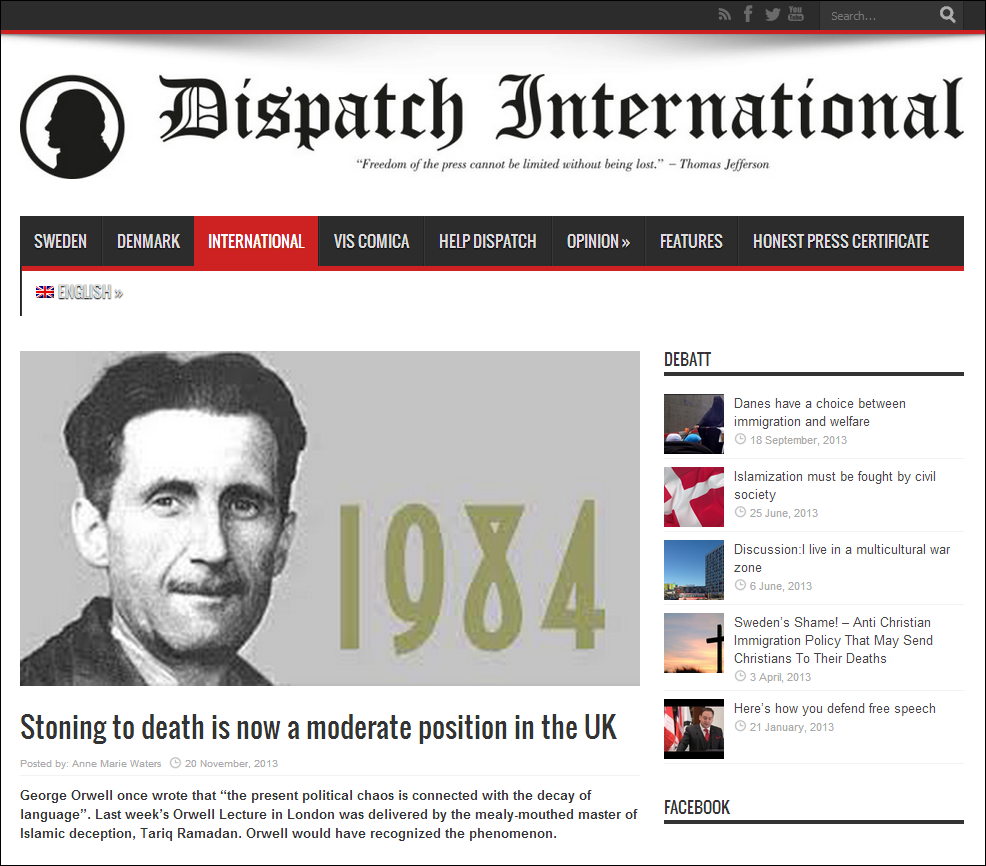 Anne Marie Waters seems to be making a habit of resigning these days. Last month she left the Labour Party – citing its support for multiculturalism, selection of Ken Livingstone as its London mayoral candidate, and imposition of legal restrictions on hate speech as reasons for her departure – and now she has resigned from her post as joint spokesperson for the anti-sharia campaign One Law for All.
Last week Waters' co-spokesperson Maryam Namazie posted Waters' resignation letter on the OLFA website. Waters says in it that she still believes the "fight against sharia and Islamism" is "one of the most important and urgent causes we face in the 21st Century". But rather than conducting this struggle through OLFA she will be "working with other people and groups to speak out for democracy, liberty, and the right to freedom of speech and association". No doubt she has in mind her friends at the Danish-Swedish "counterjihad" publication Dispatch International, to which she has become a regular contributor (her most recent article is entitled "Stoning to death is now a moderate position in the UK").
If the reasons Waters gave for leaving the Labour Party were self-evidently fraudulent, at least she made the effort to present a justification for her decision. She offers no explanation at all for her resignation from OLFA. However, once again, it's not difficult to work out the real causes of Waters' sudden exit.
In this case, you have to suspect, her public association with far-right English Defence League supporters – one of whom holds the view that western civilisation is under threat from "this huge immigration from low IQ countries" – was proving a serious embarrassment to OLFA, whose official position is that such forces are "enemies not allies". Waters' own increasingly extremist statements – for example her assertion, in an article for DI, that sharia councils have no place in an "overwhelmingly white" Britain – no doubt further contributed to making her position untenable.
Not that Waters' departure represents any real change at OLFA. Baroness Cox, who notoriously invited Dutch far-right politician Geert Wilders to show his anti-Islam film Fitna at the House of Lords, while EDL members demonstrated outside in support of his visit, is still a prominent supporter of the organisation. Only last month OLFA was advertising an anti-sharia meeting at which Cox appeared alongside Waters.
It's also a fact that, for all its claims to oppose the EDL and their fellow "counterjihadists", OLFA jointly sponsored the Passion for Freedom Festival in London earlier this month along with Dispatch International (see below). Lars Hedegaard of DI appeared at the festival to accept an award given to the anti-Muslim film Silent Conquest, and former EDL leader Stephen Lennon was welcomed as a guest of honour at one of the events.
If Maryam Namazie and others in OLFA pressured Waters into resigning because her links with the "counterjihad" movement were causing problems for the organisation, Waters would be entitled to regard this as just a touch hypocritical. Rather than her departure signalling any stand on principle by OLFA, Waters would appear to have fallen victim to a cynical exercise in damage limitation.
Waters may have left OLFA, but she is still a member of the National Secular Society council and a regular contributor of opinion pieces to the NSS website. Indeed, in the letter announcing her break with OLFA she says she will now focus on "promoting secularism and freedom with the National Secular Society". There must be some NSS associates – Guardian columnist Polly Toynbee, Labour MPs Angela Eagle and Kerry McCarthy, or Lib Dem peer Baroness Tonge – who might want to ask why, if Waters is no longer acceptable as the public face of OLFA, she remains a leading figure in the NSS.