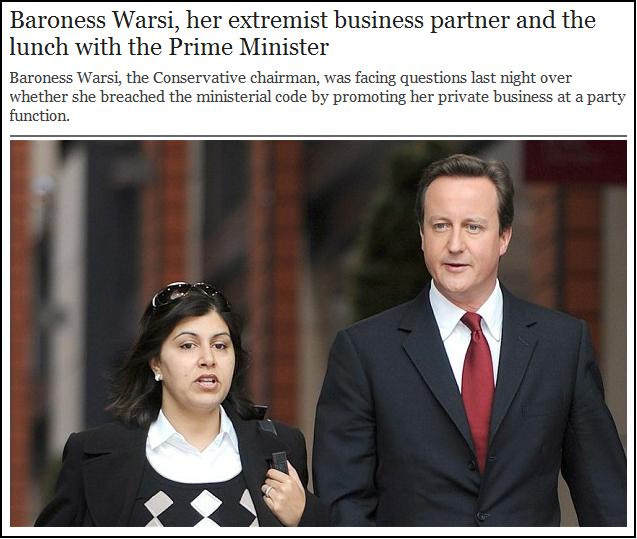 The latest episode in the Sunday Telegraph's attempt to frame Sayeeda Warsi is headlined "Baroness Warsi, her extremist business partner and the lunch with the Prime Minister". You'll note that, in contrast to last week's instalment, Abid Hussain is referred to straightforwardly as an extremist without bothering with the quotation marks. Last week his extremism was an allegation, now apparently it's an established fact.
What additional information, you might ask, has the Sunday Telegraph's investigations editor Jason Lewis discovered about Warsi's business partner over the past seven days that could justify this change? Well, none actually. The main scandalous revelation about Abid Hussain in the latest article is that he has been convicted of assault – nearly a quarter of a century ago, when he was a teenager. The conviction is of course long spent. This really is scraping the barrel.
As for the charge of extremism, there is nothing new here at all. The old story about Hussain's previous association with Hizb ut-Tahrir is simply recycled. We are told that he "was first involved with the extremists in the early 1990s, and backed them at meetings after the July 7 bombings in 2005".
The words "first involved" are used to suggest that Hussain's involvement with HT continued after the early 1990s, although Lewis of course provides no evidence that it did. As for the charge that Hussain "backed them at meetings after the July 7 bombings in 2005", this is a repetition of the earlier claim that in September 2005 Hussain "gave speeches with Hizb ut Tahrir leaders in Luton, Burton upon Trent, Staffs, and Walthamstow, east London, opposing Labour's plan to introduce tough anti-terrorism laws".
The reference here is to the bill that became the Terrorism Act 2006. It criminalised the "glorification" of terrorism and sought to extend the pre-charge detention period from 14 to 90 days. The glorification clause was condemned by civil rights organisations as a threat to free speech, while opposition to 90 days' detention without charge was so widespread that it was voted down in the Commons by an alliance of Conservative, Lib Dem, SNP, Plaid Cymru, Democratic Unionist and dissident Labour MPs. As for Hussain sharing a platform with Hizb ut-Tahrir speakers to oppose this draconian legislation, that only becomes an issue if, like Jason Lewis, you decide to ignore and obscure the fact that HT is a entirely peaceful organisation which opposes terrorism.
The centrepiece of this week's attack on Warsi is that she paid for two tables at a Conservative Friends of Pakistan lunch at the Savoy Hotel last month, and that her guests from the British Pakistani business community included Abid Hussain and others connected with the company in which she and Hussain hold shares. A separate article by Lewis is devoted to "exposing" Hussain's entirely innocent participation in this event, along with his attendance at an Eid reception at Downing Street back in November 2010 ("A man who had once been a prominent activist in Hizb ut Tahrir, a group which wants Britain to be run under stritct [sic] Islamic law, shook hands with David Cameron in the drawing room of 10 Downing Street").
Lewis suggests that this somehow put Warsi in breach of the ministerial code. Yet he himself admits that it is "unclear" whether Warsi was even responsible for adding Hussain's name to the guest list for the 2010 Eid reception. As for the Conservative Friends of Pakistan bash at the Savoy, a Tory Party spokesman is quoted as saying that it was "a party-political event for members of the British Pakistani community. To suggest that there was any impropriety in their being invited is simply mischief-making". The spokesman pointed out that "no issue arises in relation to the ministerial code".
This really is pathetic stuff, isn't it? If the Sunday Telegraph is intending to continue its persecution of Baroness Warsi – and the witch-hunt shows no sign of letting up – then the paper's investigations editor might be advised to hand over the conduct of this campaign to another journalist who has more aptitude for taking flimsy or non-existent evidence and manipulating it so that the false accusations against his victims at least appear to have some substance. Andrew Gilligan is the obvious choice.
It would, however, be a mistake to think that the Telegraph is doing this off its own bat. The details of Warsi's involvement in the Conservative Friends of Pakistan event, which include for example the email address from which the list of her guests was sent, have clearly been leaked to the paper by someone at Conservative Party Central Office. In other words, the witch-hunt is being fuelled by Warsi's opponents within her own party. As James Macintyrepointed out a couple of weeks ago, Warsi's enemies would appear to consist of reactionary Tory bigots who believe their party's chairman should be a white non-Muslim, and other more sophisticated critics like Michael Gove who think Warsi is soft on what they regard as extremism in the Muslim community and resent her public opposition to the Islamophobia they themselves have enthusiastically stoked up.
The baseless character of the accusations against Warsi, and strong indications that the campaign is inspired by the anti-Muslim right in the Conservative Party, haven't prevented Labour's shadow cabinet office minister Michael Dugher from once again endorsing the Telegraph's witch-hunt. Lewis quotes Dugher as saying: "These latest allegations take the scandal to David Cameron's doorstep and to the heart of Downing Street. The Conservative Party chairman seems to have been giving her private business associate – a man who has admitted being involved in an extremist Islamist group – access to the corridors of power."
Surely the time has come for Ed Miliband to take some action over this. He was in Bradford recently, assuring members of the British Pakistani community that the Labour Party is resolutely opposed to the current wave of Islamophobia in the UK. If he wants to show that this was more than just words, the Labour leader could start by reining in Michael Dugher.
Update:  The Labour Party has published a letter from Michael Dugher to Sir Alex Allan, independent adviser on ministerial interests, under the heading "Dugher asks Sir Alex Allan to investigate latest Warsi revelations". You only have to read it to see how threadbare the accusations against Warsi really are.
Dugher repeats the Sunday Telegraph's accusation that by inviting some of her business contacts to the Conservative Friends of Pakistan event last month Warsi breached the ministerial code, which states that: "Ministers must ensure that no conflict arises, or appears to arise, between their public duties and their private interests."
Now, I don't claim any expertise in the operation of the ministerial code, but it is difficult to see how this applies to a minister's participation in a party-political fundraising event, which hardly comes into the category of "public duties". I would have thought that if Warsi wants to invite guests to a Tory Party lunch at the Savoy she can invite anyone she bloody well likes.