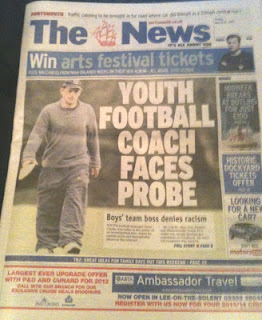 A youth football team manager is under investigation after racist and homophobic comments appeared on his Facebook page.
Hampshire Football Association and the FA are probing allegations made against Steve Clarke, who manages the under-15s squad at Havant and Waterlooville Youth FC.
Mr Clarke strongly denies making the offensive comments about Muslims and homosexuals and says the only explanation he can think of is that his profile on the social networking website was hacked.
The 45-year-old told The News he had been friends with youth team players on Facebook, which means they could have seen the posts online. He said he no longer has the Facebook account.
Mr Clarke, who has previously used an image of himself with young players as his profile picture on Facebook, said: "I have never, ever, ever, ever, preached any racist or homophobic views to any of the team. Every single player in my team is prepared to write a letter to say they have never heard me say any of that. I'm not a racist at all."
Mr Clarke said he had attended meetings of the English Defence League in Portsmouth after being invited along. But he says he stopped attending after two meetings as he believed there was squabbling within the groups and that he is not a member of the organisation.
Portsmouth News, 16 March 2012
For screenshots of Clarke's Facebook posts see Portsmouth Nazi Watch. His comments include "you want Shariah, then Fuckoff back to your own shit'ole an ave it" on his own Facebook page, and "muzzies should wear muzzles, stop em preaching their shit" on Portsmouth EDL's page.
Update:  Portsmouth Nazi Watch dismisses as "total fiction" Clarke's claim that he attended only two EDL meetings and has since left the organisation. They point out:
Clarke first came to our attention in the run-up to the EDL's demonstration in Portsmouth, in July of last year. He had made posts promoting the event, and had even posted on the wall of an unauthorised "Portsmouth FC EDL" Facebook group stating people should not join this but rather the official Portsmouth EDL group.

It strikes us as a little odd that eight months later he decides to post his comment, on 3rd February 2012, urging that "muzzies [muslims] should be gagged" on the group wall for an organisation he is claiming not to support or be a member of.
Portsmouth Nazi Watch add that Clarke's involvement with the EDL goes back even further, and they reproduce a screenshot from EDL News showing Clarke organising an EDL meeting in January 2011.