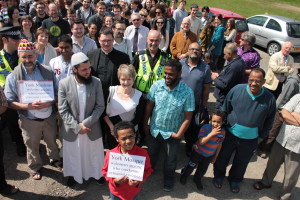 Over 100 students and members of the public turned up outside the York Mosque and Islamic Centre at Bull Lane on Sunday afternoon after rumours of a EDL rally surfaced on Facebook and Twitter on Saturday evening. The York community stood together as an act of solidarity against fascism that very afternoon. 4 EDL supporters arrived at around 3:00 pm.
Islamophobic attacks have seen an exponential rise after the unfortunate murder of Drummer Lee Rigby in Woolwich, London on Wednesday. There have also been several EDL marches around the UK, including one in Newcastle on Saturday that was attended by over 1500 EDL members.
It all started with a post on the EDL Scarborough Facebook page on Thursday, which wrote "demonstration on Sunday at Bull Lane mosque York. please come along. no SURRENDER." There was no follow up by the group, but precautionary measures were taken by the mosque and several activist groups online, inviting the public for tea at the mosque amid threats of violence.
Many of those who turned up were University of York students, with Kallum Taylor, YUSU President and Bob Hughes, YUSU Welfare Officer also showing up to show support. Present at the event were also York residents, including a local church leader.
Kallum Taylor commented saying: "even if I wasn't President, I'd still be here on a personal capacity. Our University is international and diverse and it is important to uphold that in the University and across the city."
Both YUSU officials were very happy to "see so many people coming out to show solidarity for the Muslim community" and Bob Hughes also reiterated that YUSU "have no tolerance for any fascism in the community."
By 2.45pm, the EDL had not showed up, Ibid Salik, the Imam of the mosque addressed the crowd, thanking them for turning up.
"Things like that really touches my heart. We didn't personally organise anything. Its great to see the community coming together to show solidarity."
Nouse also spoke to Fiona Fitzpatrick and Neil Barnes, Hull Road Labour Councillors, who were present at the mosque. Fitzpatrick has been a keen supporter of the mosque, and was even seen offering refreshments to those who turned up at the event.
Neil Barnes saw the solidarity shown by the community as a "victory for peace and understanding."
An hour later at about 3.00pm, 4 EDL supporters turned up. They approached the mosque and had a long debate with those who were present, but there was no sign of violence. They left after accepting tea and biscuits from the mosque.
With the sun out, a large crowd and an open field, the afternoon ended with an impromptu football session on the compounds of the mosque.
See also "Mosque hosts open day after demonstration threats", The Press, 26 May 2013