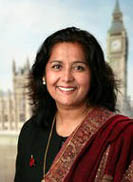 Bolton's newest MP has accused Greater Manchester Police of heavy-handed tactics during March's English Defence League and Unite Against Fascism rallies.
Now Yasmin Qureshi, who was elected as Bolton South East MP last month, is calling on GMP to drop charges against anti-fascist activists arrested on the day.
Ms Qureshi was on the UAF front line at the protest against the EDL's rally in Victoria Square on March 20 and is leading the new national campaign calling on police not to prosecute left-wing protesters.
The newly formed Justice4Bolton campaign is arguing the use of conspiracy laws, rather than charges relating to specific incidents which would require greater evidence, "indicates a move towards de-legitimatising protests against the rise of fascism in the UK".
Ms Qureshi said: "I did not see or hear any activity amongst the protesters that I would have described as violent disorder, though there were some police officers who, in my view, were being heavy-handed in some cases. I supported the aims of the protest against the English Defence League in Bolton and I was there."
Justice4Bolton has already won the support of trade unions, anti-fascist organisations and influential MPs including former Northern Ireland and Wales Secretary Peter Hain.
Thousands of UAF and EDL demonstrators held counter-demonstrations in Victoria Square on March 20. Police made more than 70 arrests, with more than 50 of those UAF supporters. Among those arrested on the day were Weyman Bennett, joint secretary of Unite Against Fascism, and Rhetta Moran, joint secretary of Greater Manchester UAF.
Mr Hain said: "The UAF has worked very hard to get rid of the British National Party and the fascist threat and should be congratulated, not prosecuted."
Update:  Cf. "Police deny claims of EDL support", Bolton News, 17 June 2010