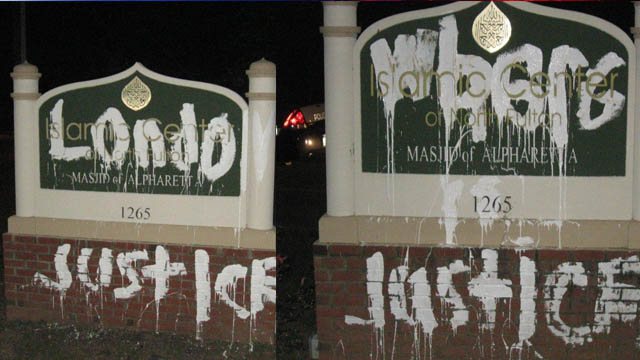 Alpharetta Police are investigating an incident of vandalism at the Islamic Center of North Fulton.
Police officers responded to a call Monday from a witness saying he'd seen an "elderly Caucasian male wearing a rag on his head and short pants" painting graffiti on the center's entrance sign, according to the incident report. The words painted on the sign read "London Justice" and "Where Is Justice."
According to the police report, the responding officers searched the area for the suspected vandal but were unable to find him.
The incident report says the witness reported that he approached the man and asked him what he was doing; the man then walked away. The witness said the suspected vandal "appeared to have an English accent," according to the report.
NeighborNewspapers, 28 May 2013
See also "Vandals target Islamic mosque in Alpharetta", WSB TV 2, 28 May 2013
And "CAIR asks FBI to probe Georgia mosque vandalism tied to London attack", CAIR press release, 28 May 2013