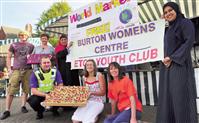 A community centre alleged to have links with Islamist extremist groups has been left ruined by the 'false accusations', one of its leaders has claimed.
Rita Gibbins, treasurer of Burton Women's Centre in Dallow Street, Horninglow, spoke out six months after Staffordshire Police, East Staffordshire Borough Council and Staffordshire County Council first made the accusations.
"Since the accusation was made and it went on the front page of the Burton Mail, we have heard nothing," she said. "No-one from the police or councils has visited us since. It has become really difficult to get new members and get funding."
The three organisations cut funding and staff support to the centre, which has a predominantly Asian membership, after it was alleged people associated with it had 'links to groups that promote Islamist extremism'.
Although no offences were committed, the police force and two councils decided it would be wrong to continue supporting the centre, which has 200 members.
Mrs Gibbins said: "No-one has been interviewed or arrested. In my opinion this is a case of people being stigmatised because they wear headscarves. We were dumbstruck when the accusations were made. We could not believe it. No-one here would get involved in anything like that."
The treasurer said attracting funding and new members had become more difficult in the wake of the revelation.
Centre secretary Kosur Parveen added: "This has been made into an Islamic issue. We are just a service for women and children in the area. We are not here on religious grounds and just because we wear headscarves, it doesn't mean we are here on religious grounds. What they said about us was, in my opinion, slander and completely untrue."
A Staffordshire Police spokesman said the force would not be commenting on the two women's claims, other than to say it stood by its statement published in the Mail in January. The spokesman stressed no offences had been committed by the group.