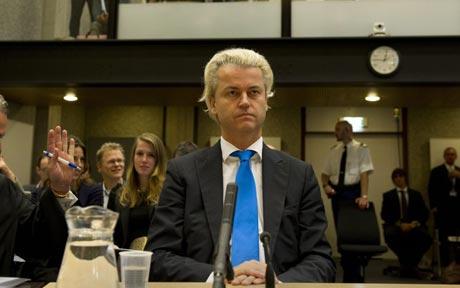 A special court in Amsterdam will decide on Tuesday afternoon if new judges should be sworn in for the trial of anti-Islam MP Geert Wilders on charges of inciting hatred.
On Monday, Wilders' lawyer Bram Moszkowicz challenged the legitimacy of the court after the presiding judge appeared to criticise Wilders' decision not to answer any questions. Jan Moors said Wilders had often been accused of avoiding discussion about his views on Islam and Muslims. "By remaining silent, it seems you're doing that today as well," he said.
Wilders evoked his right to silence at the start of the trial, saying he would not answer any questions and that his lawyer would answer on his behalf.
Wilders, a silent partner of the probable new government, is on trial in Amsterdam on charges of discrimination and inciting hatred against Muslims, Moroccans and non-Western immigrants.
The trial centres on a number of statements made by Wilders over the years. In one, he likened the Koran to Hitler's book Mein Kampf and called for it to be banned. In another, he said: "The borders will be closed that day for all non-western immigrants…. We have to stop the tsunami of islamisation. It is affecting our heart, our identity, our culture."
As each statement was read out in court, Moors asked Wilders if the quotation was accurate and if he had approved it before publication. In each case, Wilders refused to answer.
Update:  See "Dutch politician hate speech trial to resume", Associated Press, 5 October 2010