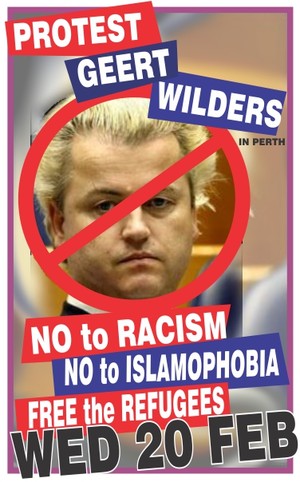 Controversial Dutch MP Geert Wilders has been forced to cancel the Perth date of his speaking tour after he was unable to find a venue to host him.
The right-wing MP, who wants a ban on Islamic immigration and says the religion is incompatible with freedom, is stirring controversy with his tour of Australia, which began in Melbourne today.
An unnamed four-star CBD hotel had been set to host Wilders but pulled out late this afternoon. Host of the tour, the Q Society, said finding another venue at short notice was almost impossible because of security needed for the MP and the threat of possible protesters.
Organisers of the planned Perth protest rejected the claims. "We utterly reject the accusation that we have intimidated any venue or that we ever posed a physical threat to Wilders or any of his associates," said protest organiser Alex Bainbridge. "Any decision by a venue to pull out indicates that they do not want to be associated with him."
Mr Wilders is still scheduled to travel to Perth.
Update:  See "No Perth press conference for Wilders", AAP, 20 February 2013
Update 2:  See also "Perth: Geert Wilders falsely says free speech denied", Green Left Weekly, 23 February 2013