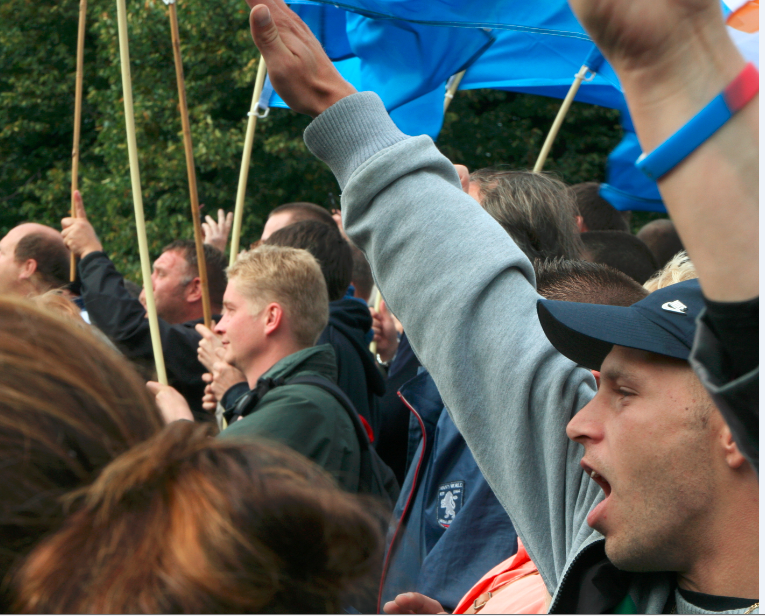 Geert Wilders, leader of the anti-immigration PVV, and Alexander Pechtold of the Liberal democratic party D66 have clashed in parliament over Nazi salutes spotted at last weekend's PVV rally.
During the first of the two-day debate on the budget, Pechtold asked Wilders to distance himself from the far right.
During Saturday's PVV demonstration in The Hague, several people were seen to make Nazi salutes and were carrying a flag from the Dutch national socialist party NSB. There were also people present with convictions for anti-semitism.
"I am concerned," Pechtold said, before asking Wilders to comment. Wilders refused to do so, and went on to call Pechtold a "sad, miserable, hypocritical little man".
Pechtold then pointed out that Wilders has been making approaches to nationalist parties such as Belgium's Vlaams Belang, the Lega Nord in Italy and France's Front National. "How do you respond to Marine le Pen's wish to see Jewish skull caps banned?" Pechtold said.
Wilders, who has made no secret of his efforts to form a pan-European alliance with nationalist parties to fight next year's EU elections, again refused to comment. "I am not going to react," he said before stating that Pechtold "is too miserable to merit taking seriously".
Wilders went on to say he was proud of Saturday's demonstration and of everyone who attended. "It goes without saying that the PVV and its thousands of supporters have nothing to do with extremism and anti-semitism. The PVV has nothing do to with that sort of idiocy," the PVV leader said.