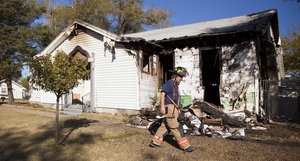 A Muslim mosque in west Wichita that was heavily damaged by fire early Monday had received anti-Islam letters in recent months. Somebody also had begun turning on its outside water faucet overnight to hike its water bill, its leader said.
Abdelkarim Jibril, president of the Islamic Association of Mid Kansas at 3406 W. Taft, said the letters put down Islam, called the prophet Muhammad a pig, and enclosed drawings that mocked him. The mosque received about eight of the letters starting four to six months ago, but they had stopped about a month ago, he said.
The FBI and the Bureau of Alcohol, Tobacco, Firearms and Explosives joined the fire investigation Monday. The cause of the fire has yet to be determined. Investigators are aware of the letters. "We don't know if any of the letters have any relationship to the fire at this point. It's something we're looking into though," said Wichita fire Lt. Troy Thissen. "We're not ruling out anything," Wichita fire Capt. Stuart Bevis said.
The blaze was reported at 12:45 a.m. at the association, southeast of Maple and West streets. The fire spread quickly and gutted the attic, Bevis said. Damage was set at about $130,000.