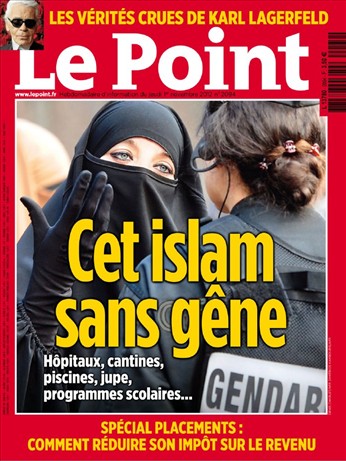 When last week's cover of normally stern French magazine Le Point appeared online, the consensus on social networks said it was a hoax. Le Point is no tabloid. It is a serious and well respected conservative magazine.
Running the headline: "Brazen Islam…in school cafeterias, hospitals, and swimming pools" the cover featured a niqab-clad woman arguing with a French policewoman. It had to be a joke, but sadly it wasn't.
Le Point's cover was widely condemned on social networks, and parodies of it quickly appeared. "Brazen Judaism and its garlic humus", "Brazen gays and their trimmed eyebrows," "The brazenly disabled and their parking spaces," illustrated how French Muslims probably felt when they passed the newsagent last week.
When Socialist Interior Minister Manuel Valls was asked during a popular TV talk-show whether he found the cover shocking, he brushed it off, saying "It expresses a reality." He went on to say: "What I find shocking, and what I will always find shocking, is a fully-veiled woman."
That was it. The second religion in France gets insulted on the front cover of one of the country's most popular magazines – something that could never have happened with any other religion or community, as pointed out by the numerous parodies – and the Interior Minister, supposedly in charge of security of all French citizens, claims on a widely-watched TV show that it's fine, and no one contradicts him.
It doesn't matter that at the time of its public ban in 2011, the niqab was estimated to be worn by less than 2,000 out of 65 million French people. It doesn't matter that – as was later revealed – the infamous picture was taken during a protest in September involving no more than ten women. To Manuel Valls, to Le Point, the terror of ten women protesting is "a reality" that deserves to be on the front page of a national magazine.
This might be because stigmatising Islam has become extremely common in France.