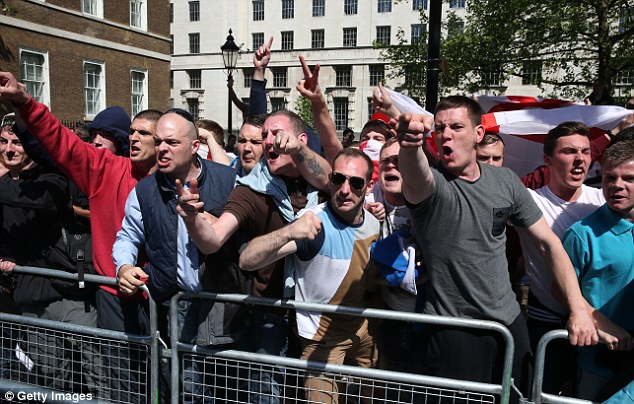 English Defence League protesting at Downing Street in May
West Midlands Police and Birmingham City Council are working together to prepare for a protest due to take place in Birmingham City Centre on Saturday.
Supporters of the English Defence League (EDL) are planning to stage a static protest in Centenary Square on 20 July, whilst groups in opposition to the EDL, are holding a simultaneous counter demonstration in Chamberlain Square.
These distinct and central venues have been identified to assist with a carefully planned police and council operation.
ACC Sharon Rowe is the chief officer in overall command of the major policing operation being planned for the day. She is clear about the position the city finds itself in: "We recognise that people feel anxious about having these protests in our city, particularly after the recent events in Walsall and Tipton – and we believe that our resources would be better placed in local neighbourhoods, tackling local issues," she said.
"Having said that, we have a duty to facilitate people's right to protest, so long as it is peaceful, regardless of whether the group's views are supported by the majority or not. West Midlands Police and Birmingham City Council do not have the power to ban static protests such as these – the right to protest peacefully is a sign of a healthy democracy and we have a duty to facilitate that right.
"We will have more than 1,000 officers on duty to ensure that the people who live, work, shop or visit Birmingham feel reassured and can go about their daily business in safety. The force is being supported by colleagues from the region and other forces from across the country.
"Let me be clear – if there is violent behaviour at either demonstration, or indeed in the wider community, it will be dealt with swiftly and robustly.
"We will identify and bring to justice anyone who is behaving in a criminal or anti-social manner – just as we have done when violence has broken out at previous protests and counter protests in Birmingham, Dudley and Walsall.
"We are working closely with local community representatives, businesses, politicians and all faiths to plan and share details of our operation.
"We are aware some communities, locations or individuals might feel vulnerable given the nature of the protests, as well as heightened tensions following the explosion in Tipton at the weekend. A large-scale, substantial and visible policing operation is in place across the whole of the West Midlands. This will not end when all those involved in the protests go home on Saturday night – we will continue to work with communities and provide additional patrols across the city long after the protesters have left.
Councillor John Cotton, community cohesion lead for Birmingham City Council added: "Birmingham is a city of many communities, nationalities and creeds – all living and working side by side by side. We are committed to maintaining a city that is safe and inclusive, free from discrimination and all forms of extremism.
"People should go about their normal business and not allow the protest to undermine Birmingham's reputation as a city that champions tolerance, peace and understanding across all our neighbourhoods and communities."
In reality, West Midlands police are under no legal obligation to facilitate an EDL protest in central Birmingham.
If a static demonstration can be expected to cause "serious disruption to the life of the community" or if "the purpose of the persons organising it is the intimidation of others",  then the police do have the power under Section 14 of the Public Order Act to place conditions on the demonstration, notably by giving instructions to the organisers as to "the place at which the assembly may be … held".
When the EDL attempted to hold a demonstration in the centre of Walthamstow last September the police imposed a Section 14 ban, and forced the EDL to hold their protest miles away in Westminster. West Midlands Police can easily impose a similar ban on the EDL and order them to hold their protest well away from the centre of Birmingham, where they will be unable to intimidate and disrupt the life of the local community.