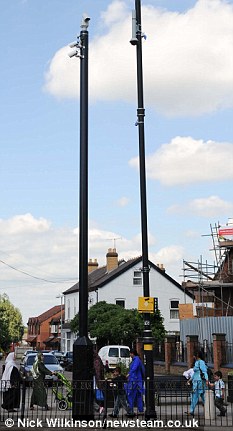 British police apologized Thursday for a counterterrorism project that installed surveillance cameras in predominantly Muslim neighborhoods, saying that although the cameras had never been switched on, the program had damaged trust and caused anger in the community.
The surveillance program, which saw more than 200 CCTV cameras and number plate recognition devices put up in parts of Birmingham, central England, was conceived in 2007 after a series of terrorist plots were uncovered in the city.
Residents complained that they were not consulted about the program, and civil liberties groups protested that the measures were heavy-handed.
Protests from human rights groups led police to decide not to begin using the cameras after an installation program was completed. Some have been covered with plastic bags to reassure locals that footage or license plate details are not being captured.
An independent review conducted by Thames Valley Police, in southern England, criticized police in central England for the camera program. The review found "little evidence of thought being given to compliance with the legal or regulatory framework" before the cameras were put up.
West Midlands Police constable Chris Sims said authorities had made a mistake in not considering the impact of the cameras in intruding into people's privacy. "I am sorry that we got such an important issue so wrong and deeply sorry that it has had such a negative impact on our communities," he told reporters.
Associated Press, 30 September 2010
See also "Police surveillance of Muslims set up with 'no regard for law'", Guardian, 1 October 2010