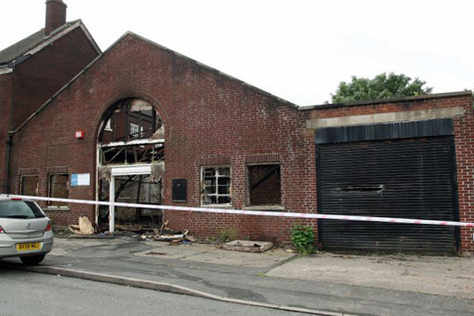 A former community centre in Oldbury faces demolition after being gutted in an arson attack.
Up to 40 firefighters battled the blaze at Langley Hall in Vicarage Street last night, which was set to be taken over by the Langley Islamic Culture Centre. Crews battled flames from 1.30am to 6.30am, but the building was destroyed in the attack. Bosses at Sandwell Council say it is now likely to be demolished.
The fire was started less than 24 hours before a community meeting was due to be held to discuss the future of the site. The hall used to be a base for the Territorial Army but a short-term licence had been granted to the Islamic group to explore taking it over.
Crews from Oldbury, Smethwick, Woodgate Valley, Ladywood, Cradley Heath, West Bromwich and Wednesbury were all called to the scene.
Watch Commander Simon Woodward of Smethwick fire station said: "The building was well alight when we arrived on scene and we had to use water to protect surrounding buildings. We believe the fire was started deliberately and the police are now investigating."
People living near the centre in Vicarage Street had formed an action group to find out more about plans for the future of Langley Hall, and had objected to its conversion into an Islamic centre, claiming it could cause parking problems.
Sally Scarlet, of the Langley Hall Action Group said: "The centre has been out of use for a number of years and we have been campaigning for the last 12 months to be given information about its future. We were proud of this building and can't believe that something like this has happened."