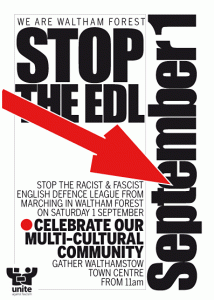 Thousands of people were set to take the streets to stop the racist English Defence League (EDL) in Waltham Forest, east London, this Saturday.
Determination to oppose the EDL has united people in the area – and left the racists running scared. The EDL had originally planned to march there on 18 August but postponed it.
Weyman Bennett, joint secretary of Unite Against Fascism, spoke to Socialist Worker. "The EDL moved the date because it is not confident marching through Waltham Forest," he said.
The We Are Waltham Forest campaign, which was set up to stop the EDL, has widespread support. Trade unions, community groups, churches, local Labour councillors and local MP Stella Creasy pledged support for the counter demo.
And last week local mosques released a joint statement encouraging their congregations to mobilise against the EDL. Irfan Akhtar from Waltham Forest Council of Mosques said, "We are committed to a peaceful protest against these fascists coming to our diverse and tolerant borough."
Dean Harris of We are Waltham Forest spoke to Socialist Worker. He said the statement from the mosques showed "how united this borough is". He added, "We're proud to be standing beside our Muslim sisters and brothers – and proud to stop the EDL."