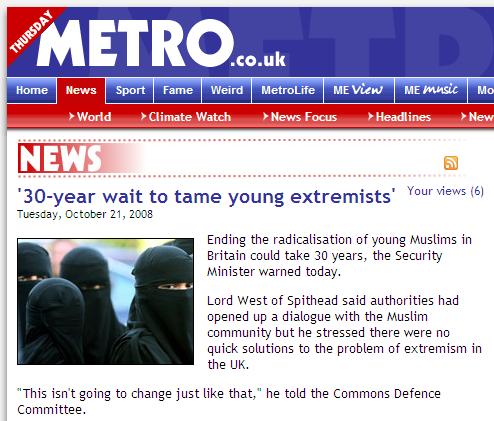 The Metro carries a story on the comments made by Admiral Lord West, Parliamentary Under-Secretary of State for Security and Counter Terrorism, to the Commons Defence Committee meeting yesterday on "UK national security and resilience" where he said that ending radicalization among young British Muslims could take up to 30 years.
The newspaper complements the news item with a picture of Muslim women in niqab. Is it any surprise that some Muslim women have had their veils forcibly torn from their faces when newspapers allude to connections between forms of Muslim dress and stories on terrorism and security?
You can write to the newspaper via email: mail@ukmetro.co.uk or post: Metro, Associated Newspapers Limited, Northcliffe House, 2 Derry Street, London W8 5TT.
Can we take the opportunity to give a big plug to this excellent new website.