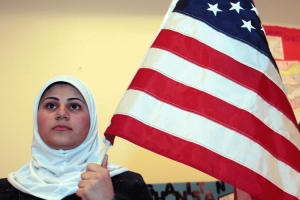 With the volume of Islamophobia on the rise in the United States, a recent report prepared for Congress and new law enforcement data are shining fresh light on the significant role American Muslims play in foiling terrorist plots, particularly those of the domestic "homegrown" variety.
The report from the Congressional Research Service, sent to Congress with little fanfare on September 20, contends that soon after 9-11, American Muslims "recognized the need to define themselves as distinctly American communities who, like all Americans, desire to help prevent another terrorist attack" and explores how federal, state and local law enforcement organizations responded by tapping into American Muslims' language skills, contacts, information and cultural insights.
CRS is a branch of the Library of Congress that conducts research on a confidential basis for members of Congress and committees. Its report was obtained by the Federation of American Scientists and released on September 24, but a CRS spokeswoman would not say who in Congress originally requested it.
Meanwhile, the Muslim Public Affairs Council has crunched FBI data, information in government press releases, and media reports on potential al Qaida-related plots and determined that since 9-11, Muslim Americans have helped thwart 11 al Qaida-related plots, nearly one-third of all such planned attacks that threatened the United States. (A vivid example of an American Muslim warning authorities of a problem: a Muslim was the first to report to law enforcement last May the suspicious vehicle in Times Square which turned out to be a dud car bomb.)
Ironically, the American Muslim community is simultaneously facing what seems to be a swelling wave of Islamophobia, fueled, in part, by specious rhetoric that fuses terrorism and Islam.