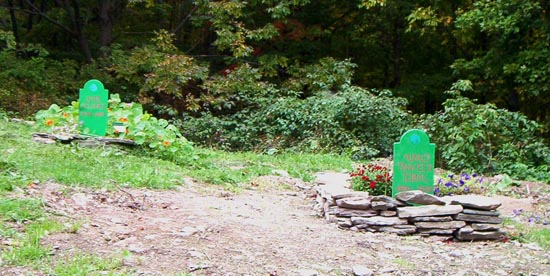 A town in upstate New York is trying to force a local Muslim religious community to dig up a small cemetery on its property and never bury anyone there again because it says it's illegal.
"What we would not want is an unauthorized cemetery," says Bob McCarthy, town supervisor of the Delaware County town of Sidney, population 5,993. "We're taking care of a bunch of cemeteries, and they just came in and buried the bodies, and didn't go through…there's no funding there, it's not a standard kind of deal, and it's going to become a liability to the town."
So what steps have the Muslims skipped? "I don't know what the exact law is," he says.
Which is the problem; because whether or not the town government likes it, there are no laws in Sidney – or New York state, for that matter – covering cemeteries on private land – religious cemeteries included. Plus, the town approved the cemetery in 2005.
This apparently isn't stopping the town board. Town attorney Joseph Ermeti wouldn't speak with us, but two other town officers indicated that in the absence of specific laws forbidding the cemetery, the town may try for a court order to force the Muslims to dig up the graves, based on a New York law against cemeteries on mortgaged land – a technicality that covers the Muslim site, sitting in a hillside glade no larger than a Manhattan studio apartment.
Shaykh Abdul Kerim al-Kibrisi, leader of the Sufi group – called Osmanlı Nakş-ı'bendi Hakkani Dergahı – says he just discovered the problem himself, and is correcting it – his options being to either subdivide the property to exclude the cemetery, or to pay off the mortgage, which is under $200,000.
In any event, whether a lawyer could convince a court that a 650-square foot cemetery on mortgaged property so offends the dignity of the law that it merits digging up bodies is the sort of fine distinction only a lawyer could love. Likewise, there's the question of whether taking such a course is wise, since the town's actions could attract all sorts of unwelcome attention – and possible civil rights lawsuits.
"Islamophobia is something we're definitely aware of," says James Mulvany, Deputy Commissioner of the New York Division of Human Rights.
Huffington Post, 27 September 2010
See Kamran Pasha, "Digging up Muslim graves", also at the Huffington Post.